7 Days of Kid-friendly Dinners
Updated April 11, 2022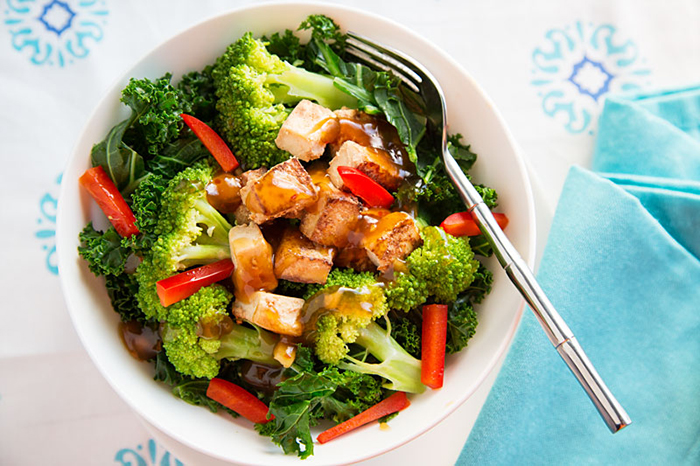 By Heather McDougall 
McDougall Program CEO and mother to 3 boys. All of these recipes have been adapted from past newsletter recipes. I have modified them all a bit to suit my family's taste. You can do the same for yours. 
Day 1
The vegetables in the filling are really just a suggestion. Use whatever you and your family like.  Add rice and red bell peppers, or sautéed broccoli and mushrooms. The possibilities are endless. We usually have this with baked tortilla chips and guacamole and salsa.
Day 2
My mom has been making a version of this lasagna for years. It is now a favorite of my boys. If you want to make this without soy, replace the tofu with 2 cups blanched almonds, soaked and drained and leave out the non-dairy cheese. I serve this with Mary's Caesar Salad from The Starch Solution and a loaf of warm French bread with roasted garlic.
Day 3
This is another great meal because if I don't have one ingredient, I know there's an easy substitute in my fridge. This soup has changed over the years. Below is my current version. I serve with warm bread and a simple salad or sautéed broccolini with a squeeze of lemon and a sprinkle of sea salt.
Day 4
This gravy literally takes minutes to put together. Sometimes my boys eat just a bowl of mashed potatoes and gravy for a snack. For dinner, we serve this meal with sautéed broccolini or green beans.
This is an excellent, firm loaf to serve with mashed potatoes and gravy.  The leftovers also make a great sandwich filling.
Day 5
I make a double-batch of this dough and put it in the freezer. This way, I always have it on hand. You can make this dough any size you want. My boys like to make their own pizzas, so I give them personal-sized dough balls and they roll it out and add their own toppings.
Day 6
I think this is my favorite thing to eat – cooked red and white quinoa, Marinated Tofu, steamed kale and broccoli with Thai Peanut Sauce and Sriracha sauce. I make a large serving of quinoa, steam some kale and broccoli, and then make the tofu and sauces listed below. To serve, I start with a layer of quinoa, top with some of the kale and broccoli, add some marinated tofu and top it all off with either one or both of the sauces. My boys don't like quinoa, so I make them rice. I serve this with a simple cucumber salad topped with a little rice vinegar and agave dressing or the Thai Noodle Salad found in The Starch Solution.
Day 7
I like to serve this pasta dish with the Sloppy Lentil Joes below and a big bowl of steamed greens – usually various types of kale from my garden.
This is a quick and easy meal that also reheats well for lunch the next day or two.  Serve this stuffed into a bun and eat with your hands, or ladle it over the buns open-face style and eat with a fork. I like to make fresh bread in my bread machine and ladle the Sloppy Joes over the bread.
Print Article
Print With Images
Print Without Images