Creamy Pasta Primavera
By Heather McDougall
Serves: 6-8
Prep Time: 30 min
Cook Time: 11 min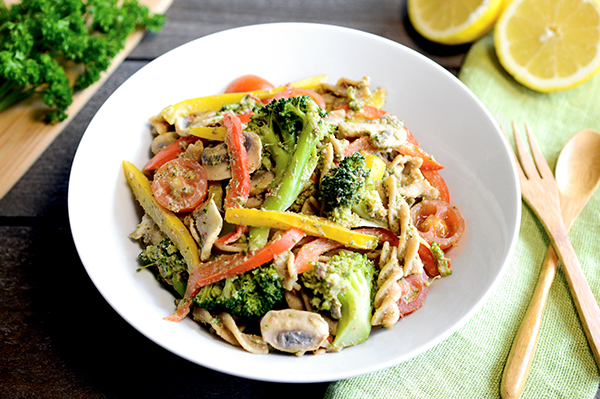 Ingredients
---
1/3 Cup
Packed fresh parsley
1/3 Cup
Packed fresh cilantro
Freshly ground pepper to taste
16 Ounces
Uncooked spiral pasta
1 Cup
Red bell pepper strips
1 Cup
Yellow bell pepper strips
1 Pound
Mushrooms, chopped
1 Cup
Cherry tomatoes, halved
Directions
---
1 Place the broth, walnuts, parsley, cilantro, lemon juice, garlic, and chili paste into a blender jar. Process for several minutes until very smooth. Add pepper to taste and optional salt. Set aside.
2 Bring a large pot of water to a boil. Add pasta and cook for about 5 minutes. Add broccoli and peppers to the water and cook for an additional 4-5 minutes, then add the mushrooms and cook for another 2 minutes. Remove from heat and drain. Place in a large bowl. Pour the sauce over and toss to mix. Add the tomatoes and mix again. May be served warm, at room temperature, or chilled.
Hint: The addition of ground fresh chili paste to this recipe gives just a bit of heat. Feel free to add more to taste. Chili paste can be found in the Asian section of most supermarkets. It is also called Sambal Oelek. It is not necessary to chop the parsley and cilantro before using in the recipe. Just take a small handful of each and toss it in with the other ingredients (remove the larger stems first). If you don't like cilantro, try this with just the parsley.
Print Recipe
Print With Images
Print Without Images
Learn why the nutrition behind our recipes is so important with the
12-Day McDougall Program
. Do you have questions about whether a change in diet can help your ailment? Learn more about our
consultations
.