Creamy Golden Gravy
By Mary McDougall
This gravy is made with brown rice flour instead of wheat flour. The great thing about using rice flour instead of wheat flour for thickening is that it doesn't form lumps like wheat flour often does. You just sprinkle it over the top of a hot liquid, stir it in and it thickens nicely without any lumps.
Serves: Makes 2 cups
Prep Time: 5 min
Cook Time: 10 min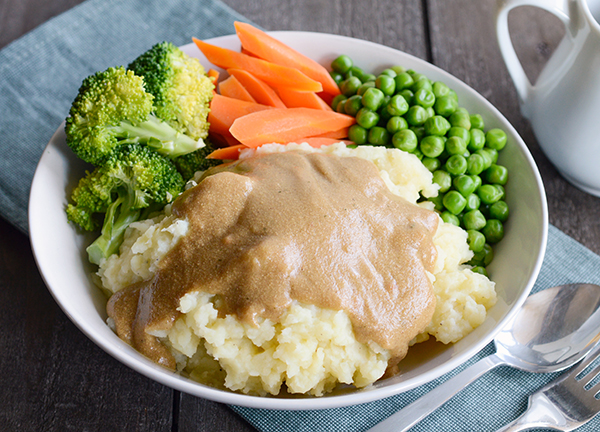 Ingredients
---
3 Tbsp
Low sodium soy sauce
Freshly ground black pepper
Directions
---
1 Place the broth in a saucepan. Combine the soy sauce and tahini in a bowl and add to the liquid in the saucepan. Bring to a boil, stirring occasionally to smooth out the tahini. When mixture is simmering and smooth, sprinkle the brown rice flour over the top, about a tablespoon at a time, and stir in. Continue to add the rice flour, stirring until sauce becomes thickened. Season with freshly ground black pepper to taste. Serve at once.
Hints: This may be made ahead and refrigerated. It will thicken slightly more when refrigerated. To reheat, place in a saucepan, add a small amount of water, whisk to combine and then heat slowly, stirring occasionally, until hot.
Print Recipe
Print With Images
Print Without Images
Learn why the nutrition behind our recipes is so important with the
12-Day McDougall Program
. Do you have questions about whether a change in diet can help your ailment? Learn more about our
consultations
.