Sloppy Lentil Joes
By Mary McDougall
This is a quick and easy meal that also reheats well for lunch the next day or two. Serve this stuffed into a bun and eat with your hands, or ladle it over the buns open-face style and eat with a fork. I like to make fresh bread in my bread machine and ladle the Sloppy Joes over the bread.
Serves: 8-10
Prep Time: 15 min
Cook Time: 60 min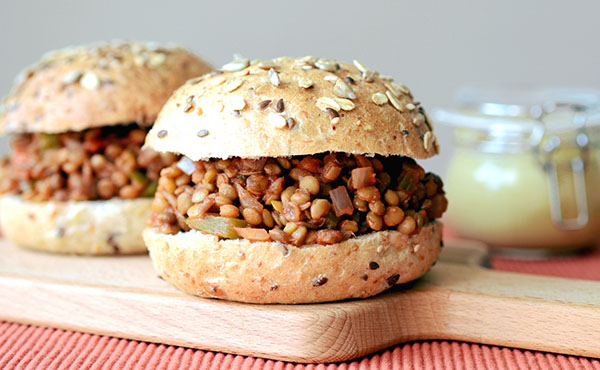 Ingredients
---
1
Green bell pepper, chopped
1 1/2 Cups
Dried brown lentils
15 Ounce Can
Crushed tomatoes
1 Tbsp
Soy sauce (optional)
1 Tsp
Vegan Worcestershire sauce
Whole wheat buns and condiments, for serving
Directions
---
Place 1/3 cup of the water in a large pot. Add the onions and bell pepper and cook, stirring occasionally until onions soften slightly, about 5 minutes. Add the chili powder and mix in well. Add the remaining water, the lentils, tomatoes, and the rest of the seasonings. Mix well, bring to a boil, reduce heat, cover and cook over low heat for 55 minutes, stirring occasionally. Serve on whole wheat buns, or fresh baked bread, with trimmings of your choice.
Print Recipe
Print With Images
Print Without Images
Learn why the nutrition behind our recipes is so important with the
12-Day McDougall Program
. Do you have questions about whether a change in diet can help your ailment? Learn more about our
consultations
.