Beetroot Hummus Veggie Wraps
By Emma Roche
These gorgeous veggie wraps are the perfect light meal for a hot summer's day. You can prepare all the elements ahead of time, and then assemble the wraps as needed. If you're planning on taking these as a packed lunch for work or school, it's best to take the components in separate containers and assemble them right before eating. Whole wheat wraps or pita breads can be used in place of collard or cabbage leaves, if preferred.

If bulgur (also known as burghul, or cracked wheat) is unavailable where you live, you can substitute whole wheat couscous in its place. For a gluten-free option, use quinoa instead.
Serves: Makes 12 wraps
Prep Time: 20 min
Cook Time: 15 min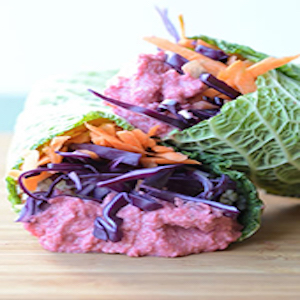 Ingredients
---
2 1/2 Cups
Cooked chickpeas (or 2-15 ounce cans, drained and rinsed)
Salt (optional) and black pepper, to taste
1 1/2 Cups
Bulgur (dry measure)
12
Large collard or savoy cabbage leaves
3 Cups
Purple cabbage, very finely sliced
Directions
---
1 Prepare the bulgur (or couscous or quinoa) according to packet instructions. While it cooks, make the beetroot hummus.
2 Drain and rinse the beets, then place them in the bowl of a food processor. Add the chickpeas, lemon juice, garlic, tahini and ground cumin. Blend until smooth. Season with salt and pepper to taste, then transfer to a container or covered bowl, and refrigerate until ready to serve.
3 Drain the cooked bulgur, and rinse it with cold running water. Shake well to remove as much excess liquid as possible. Set aside.
4 Trim the stalks off the collard or savoy leaves. Then, using a sharp knife or veggie peeler, trim down the thick part of the leaf's centre rib, so that it's as thin as the leaf itself.
5 Assemble wraps as needed. Spread 1/4 cup of the beetroot hummus out over one of the leaves. Top with 1/3 cup of cooked bulgur, then add some shredded carrot and cabbage. Squeeze a little extra lemon juice over the top, wrap up tight, and enjoy!
Print Recipe
Print With Images
Print Without Images
Learn why the nutrition behind our recipes is so important with the
12-Day McDougall Program
. Do you have questions about whether a change in diet can help your ailment? Learn more about our
consultations
.