Hoisin-Tofu Lettuce Wraps
By Mary McDougall
These are a great finger food, fun to eat, but a bit messy. For a lower fat variation, see the suggestion under hints.
Serves: 4 (enough for 2 people)
Prep Time: 15 min
Cook Time: 10 min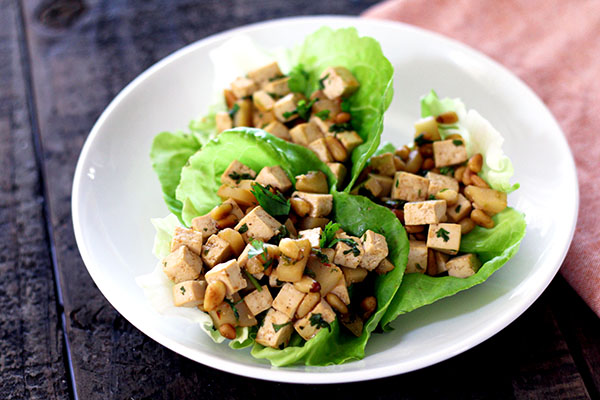 Ingredients
---
12 Ounces
Firm water packed tofu (not silken)
1 Tbsp
Soy sauce (optional)
1/4 Tsp
Chili garlic sauce
1 Cup
Chopped fresh cilantro or Italian parsley
8
Iceberg or butter lettuce leaves
Directions
---
1 Toast the pine nuts in a dry non-stick pan for about 4 minutes, stirring constantly, until they are golden brown. Remove from heat and set aside.
2 Cut tofu into small (1/4 inch) cubes. Combine rice vinegar, soy sauce, sugar and chili-garlic sauce in a small bowl. Heat a non-stick frying pan over medium-high heat, add tofu and sauce mixture, cook stirring constantly until sauce is absorbed, about 3-4 minutes. Stir in the hoisin sauce, mix well, then add the cilantro or parsley. Heat and stir for about 1 minute. Remove from heat and stir in the reserved pine nuts.
3 Serve in lettuce leaves, with some additional hoisin sauce to spoon over the top if desired.
Hints: Instead of the pine nuts, mix 1/2 cup of chopped water chestnuts in with the tofu before cooking and add an extra tablespoon of the hoisin sauce.
Print Recipe
Print With Images
Print Without Images
Learn why the nutrition behind our recipes is so important with the
12-Day McDougall Program
. Do you have questions about whether a change in diet can help your ailment? Learn more about our
consultations
.