Spinach Lasagna
By Mary McDougall
This is our old favorite lasagna recipe, but I have changed the kind of tofu used to the recipe for Tofu Ricotta from Alex Bury. We like this version even better because of the creamy consistency of the tofu filling. I also like to make this with fresh spinach instead of frozen.
Serves: 6-8
Prep Time: 40 min
Cook Time: 60 min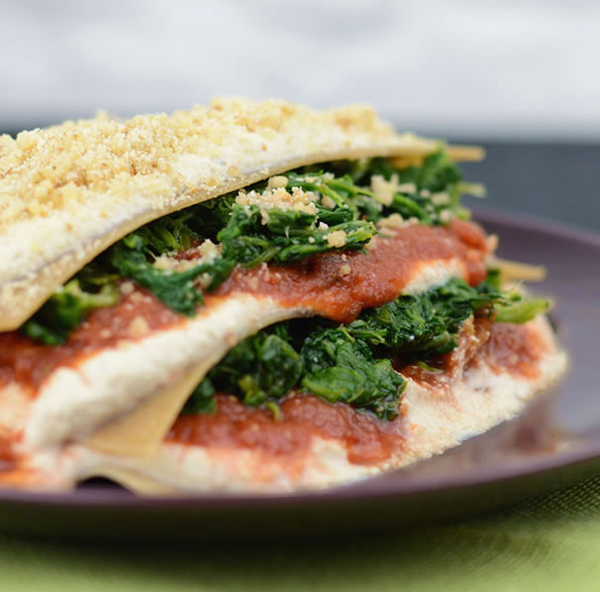 Ingredients
---
1-2 Bags
Fresh, washed spinach
7 Cups
Fat-free pasta sauce
1/4 Cup
Parmesan Cheese Substitute
Directions
---
1 The recipes for Tofu Ricotta and Parmesan Cheese Substitute can be found in Salads & Sides. Place the tofu ricotta into a large bowl. Set aside.
2 Bring a large pot of water to a boil. Drop in the lasagna noodles, stir, cook uncovered until just softened. Do not overcook. Remove from water and drain, hanging them up to dry slightly, or use the no-boil lasagna noodles and eliminate this step entirely.
3 Prepare the spinach next. Use at least one bag, two if you really like spinach. Steam the fresh spinach just until slightly wilted (about a minute or two), drain well, then either mix the spinach into the tofu ricotta or layer the spinach over the tofu ricotta in 2 batches before sprinkling with the Parmesan Cheese Substitute. (See assembly directions below.)
4 Preheat oven to 350 degrees.
5 Place 1 cup of the pasta sauce in the bottom of a 9×13 inch baking dish and smooth over the bottom. Place 1 layer of the noodles over the sauce. Then add half of the tofu mixture and smooth out. Sprinkle half of the Parmesan Cheese Substitute over that, then spread 2 cups more of the sauce over the cheese. Add another layer of noodles, the rest of the tofu mixture, the remaining parmesan cheese (reserve 1 tablespoon), 2 cups more of the sauce, and the rest of the noodles. Spoon the remaining 2 cups of sauce over the noodles (make sure you cover all the edges), sprinkle the rest Parmesan Cheese Substitute over the top. Cover with parchment paper and then cover with foil. Bake for 60 minutes. Remove from oven and let rest for 10 minutes before cutting.
6 Variation: This may be made with frozen spinach. Use a 10 ounce box (or more) and thaw in a colander. Drain well and press out any excess water with your hands. Mix into the tofu ricotta before assembling lasagna.
Hints: This may be prepared ahead of time and refrigerated before baking. Add about 15 minutes to the baking time.
Print Recipe
Print With Images
Print Without Images
Learn why the nutrition behind our recipes is so important with the
12-Day McDougall Program
. Do you have questions about whether a change in diet can help your ailment? Learn more about our
consultations
.