Asian Bowl Recipe
By Heather McDougall
I think this is my favorite thing to eat - cooked red and white quinoa, marinated tofu, steamed kale and broccoli with Thai peanut sauce and Sriracha sauce. I make a large serving of quinoa, steam some kale and broccoli, and then make the tofu and sauces listed below. To serve, I start with a layer of quinoa, top with some of the kale and broccoli, add some marinated tofu and top it all off with either one or both of the sauces. My boys don't like quinoa, so I make them rice. I serve this with a simple cucumber salad topped with a little rice vinegar and agave dressing or the Thai Noodle Salad found in The Starch Solution.
Serves: Varies
Prep Time: 15 min
Cook Time: 10 min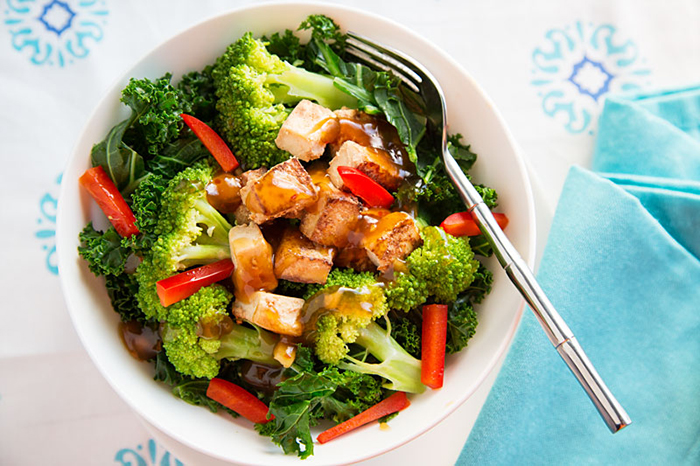 Ingredients
---
20 Ounces
Extra firm tofu
1/2 Cup
Low sodium soy sauce
1 Tsp
Grated fresh ginger
1/2 Tsp
Crushed red pepper
1-2 Tbsp
Chopped fresh cilantro (optional)
Directions
---
1 Marinated tofu: Drain the tofu and cut into small cubes.
2 Place the remaining ingredients in a small bowl and whisk until smooth. Pour over the tofu and toss to coat well. Let rest for at least 30 minutes, mixing occasionally to make sure the tofu is well covered with the marinade.
3 Turn the tofu and the marinade into a large non-stick saute pan. Dry fry for about 10 minutes, turning occasionally with a spatula to make sure the cubes are well browned on all sides.
Be sure to use extra firm tofu in this recipe or the tofu will tend to fall apart.
4 Asian ginger sauce: Combine all ingredients in a saucepan and whisk until smooth. Bring to a boil while stirring and cook and stir until thickened. Serve warm over grains and vegetables.
5 Thai peanut sauce: This is a higher-fat choice because of the peanut butter. However, I have recently discovered PB2, by Bell Plantation. This stuff is amazing! It's basically powdered peanut butter, with 85% of the fat removed. You mix it with water and use as you would regular peanut butter. You can't tell the difference.
6 Place all ingredients in a blender or food processor and process until smooth. Pour into a saucepan and heat through before serving. Serve warm over grains and/or vegetables.
Hint: Szechwan Sauce and Peanut-Hoisin Sauce (recipes in Dressings & Sauces) are also delicious on these bowls.
Print Recipe
Print With Images
Print Without Images
Learn why the nutrition behind our recipes is so important with the
12-Day McDougall Program
. Do you have questions about whether a change in diet can help your ailment? Learn more about our
consultations
.