Basic Mexican Bean Filling
By Mary McDougall
This is a basic bean mixture that I use rolled up in a corn tortilla, as a topping for a salad, as a spicy stew base, to top a baked sweet potato, added to Bean Enchiladas, or even as a topping for pizza. Ideas on how to use the filling for all of these follow this basic recipe. This may be made ahead of time and refrigerated or frozen for later use. This basic filling is easy to make over the weekend for several quick meals during the week.
Serves: Makes 6 cups
Prep Time: 15 min
Cook Time: 30 min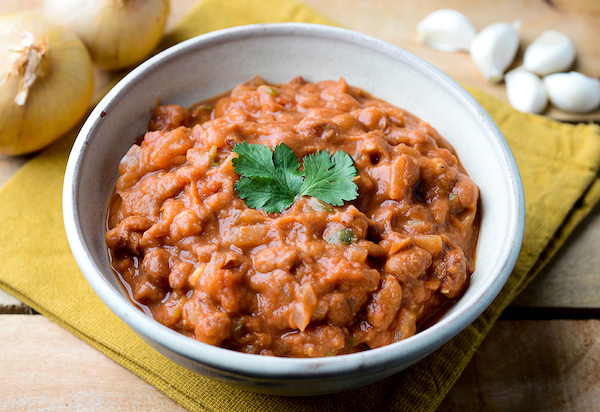 Ingredients
---
1
Jalapeno, seeded, finely chopped
4-15 Ounce Cans
Pinto beans, drained and rinsed
28 Ounce Can
Crushed tomatoes
1/4 - 1/2 Cup
Enchilada Sauce
Directions
---
1 Place the water and onions in a large pan. Cook, stirring frequently until onions soften slightly. Add garlic and jalapenos, stir and cook until slightly softened. Add chili powder, cumin and coriander. Mix well. Add the beans and tomatoes, stir and continue cooking for about 15 minutes. Slightly mash the mixture with a bean masher while still in the pot. Stir well. Add the Enchilada Sauce (recipe in Dressings & Sauces) to taste and heat through.
Variation: You can also make this with small red beans or black beans, or use a combination of different beans.
Print Recipe
Print With Images
Print Without Images
Learn why the nutrition behind our recipes is so important with the
12-Day McDougall Program
. Do you have questions about whether a change in diet can help your ailment? Learn more about our
consultations
.