Gratitude Bowl
By Mary McDougall
Serves: 4
Prep Time: 15 min
Cook Time: 15 min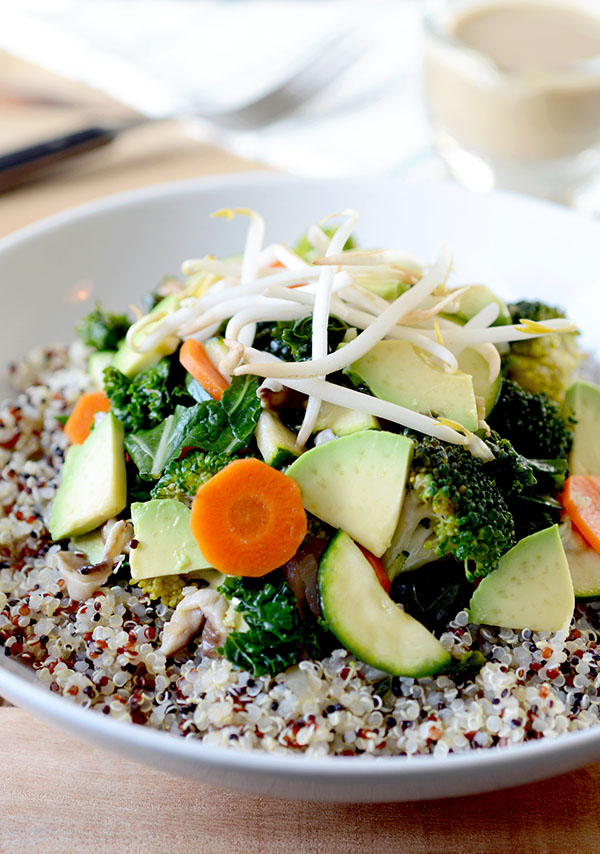 Ingredients
---
1/4 Pound
Fresh shiitake mushrooms, stems discarded and caps thinly sliced
2 Cups
Kale, coarsely chopped
1
Zucchini, halved lengthwise and sliced
4-6 Cups
Cooked brown rice or quinoa
1
Avocado, peeled and chopped (optional)
Directions
---
1 Place the vegetable broth in a large non-stick skillet with the onion and carrots. Cook, stirring occasionally, until carrot softens slightly, about 5 minutes. Add the shiitake, cover and cook until tender, about 4 minutes. Add broccoli and kale and cook, stirring occasionally until tender about 5 more minutes. Add zucchini and continue to cook until all vegetables are tender, about 3 to 5 minutes longer.
2 Meanwhile, heat the brown rice or quinoa until warm. To serve, place some brown rice or quinoa, or a combination of both into a large bowl. Top each bowl with some of the cooked vegetable mixture and a few of the mung bean sprouts and avocado chunks. Drizzle a bit of Tahini Lemon Sauce (recipe in Dressings & Sauces) over the top and serve.
3 Variations: Instead of the shiitake, use oyster mushrooms, crimini or another of your favorites. Instead of the mung bean sprouts use sunflower sprouts, if you can find them in your local market. Add other vegetables that are in season according to their cooking times.
Print Recipe
Print With Images
Print Without Images
Learn why the nutrition behind our recipes is so important with the
12-Day McDougall Program
. Do you have questions about whether a change in diet can help your ailment? Learn more about our
consultations
.