Baked Penne Florentine
By Mary McDougall
This is a delicious baked pasta dish that our grandson, Jaysen, really likes. I serve it to him the way it comes out of the oven, but I like to top mine with a bit of Sriracha hot sauce for a little kick.
Serves: 6-8
Prep Time: 30 min
Cook Time: 45 min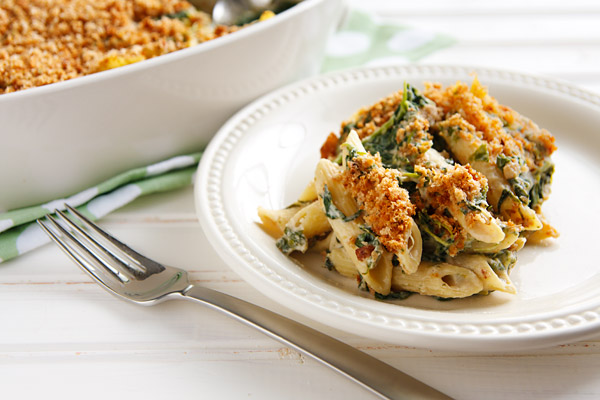 Ingredients
---
8 Ounces
Uncooked penne pasta
10 Ounce Package
Frozen chopped spinach, thawed and squeezed dry
15 Ounce Can
White beans, drained and rinsed
1 Tbsp
Soy sauce (optional)
1/2 Cup
Whole wheat bread crumbs
Directions
---
1 Drop the pasta into a pot of boiling water and cook until just barely tender, about 6 minutes. Drain, place in a bowl and add the spinach. Mix very well. Set aside.
2 Preheat oven to 350 degrees.
3 Place the onion and the vegetable broth in a medium non-stick frying pan. Cook, stirring occasionally until onion has softened, about 5 minutes. Set aside.
4 Place the cashews in a food processor and process until finely ground. Add half of the water and blend until smooth. Add the remaining water, the cooked onion, beans, soy sauce, miso, lemon juice, mustard and cayenne. Process until very smooth. Pour this over the pasta and spinach and mix well. Transfer to a covered casserole dish. Sprinkle with bread crumbs. Cover and bake for 45 minutes. Let rest for 5 minutes before serving.
Hint: This may be prepared ahead and refrigerated until baking time. Add about 15 minutes to the baking time.
Print Recipe
Print With Images
Print Without Images
Learn why the nutrition behind our recipes is so important with the
12-Day McDougall Program
. Do you have questions about whether a change in diet can help your ailment? Learn more about our
consultations
.