Enchilada Casserole
By Cathy Fisher
Filling and flavorful, this casserole is much easier to make than enchiladas since you don't need to roll the tortillas or make a separate sauce.
Serves: 6
Prep Time: 25 min
Cook Time: 30 min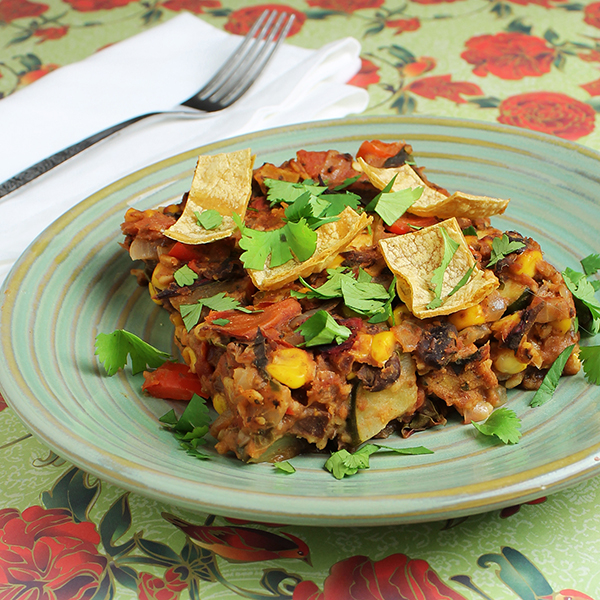 Ingredients
---
1
Red bell pepper, chopped
15 Ounce Can
Diced tomatoes, not drained
15 Ounce Can
Black beans, drained and rinsed
1 1/2 Cups
Zucchini, diced
1 Cup
Raw, frozen, or canned corn (drained)
4-5 Cups
Chard leaves, roughly chopped
4
Corn tortillas (6-inch) cut into 1-inch squares
2
Corn tortillas (6-inch) cut into 1-inch squares
Directions
---
1 Preheat oven to 375. Chop and prepare all ingredients before starting. Place 2 tablespoons of water into a soup pot on high heat. When the water begins to sputter add the onion and bell pepper and saute for 5 minutes. Reduce heat to medium and add the garlic, oregano, basil and chili powder, and saute for 1-2 minutes, adding water as needed to keep things moving.
2 Stir in the diced tomatoes, beans, zucchini, corn, chard, and the 4 cut up tortillas, and cook covered for 5 more minutes, stirring halfway through. After the 5 minutes, place 1 cup of this mixture into a blender and blend until smooth; then add this sauce back into the pot. Pour into a 2-quart casserole dish (I use an 8×11-inch rectangular dish. You do not need to prepare the pan with any oil or parchment paper).
3 Scatter the remaining 2 tortillas (that have been cut into pieces) across the top, and bake uncovered for 15 minutes. Remove from the oven and let sit for 5 minutes before serving.
4 Optional: serve with guacamole or diced avocado.
Print Recipe
Print With Images
Print Without Images
Learn why the nutrition behind our recipes is so important with the
12-Day McDougall Program
. Do you have questions about whether a change in diet can help your ailment? Learn more about our
consultations
.