Summer Tomato Panzanella
By Heather McDougall
My daughter, Heather, returned home from a trip with a craving for the bread salad she'd enjoyed while away. She created this one, which is best when it's made with fresh, vine-ripened tomatoes from the garden or your local farmers' market.
Serves: 4
Prep Time: 20 min
Cook Time: 15 min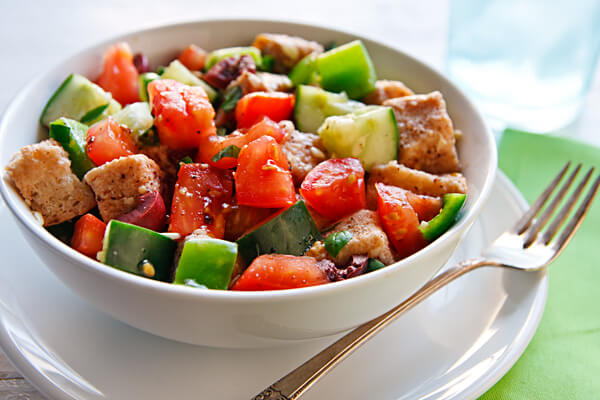 Ingredients
---
1 Loaf
Fat-free French or Italian-style bread, crusts on, cut into 1-inch cubes
1
Cucumber, cut into 1/2-inch dice
1
Green bell pepper, seeded and cut into 1/2-inch dice
3
Ripe tomatoes, cut into 1/2-inch dice
1/2 Cup
Chopped fresh basil
1/4 Cup
Kalamata olives, pitted and cut into quarters
1 Cup
Fat-Free Balsamic Vinaigrette
3 Cloves
Garlic, crushed or minced
Directions
---
1 Preheat the oven to 300 degrees F.
2 Spread out the bread cubes on a baking sheet and bake for 15 minutes to dry. Let cool on the sheet.
3 Put the cucumber, bell pepper, tomatoes, basil, and olives into a large bowl. In a small bowl, whisk together the Fat-Free Balsamic Vinaigrette, garlic, water, vegetable broth, and vinegar.
4 About 15 minutes before serving, add the toasted bread cubes to the vegetable mixture and mix to distribute the ingredients evenly. Add the dressing and toss again. Let the salad stand for 15 minutes before serving to allow the bread cubes to soak up some of the dressing. Serve.
Note: A recipe for Fat-Free Balsamic Vinaigrette can be found in Dressings & Sauces, or you can use a bottled one.
Print Recipe
Print With Images
Print Without Images
Learn why the nutrition behind our recipes is so important with the
12-Day McDougall Program
. Do you have questions about whether a change in diet can help your ailment? Learn more about our
consultations
.