Chinese Hot Salad
By Mary McDougall
I used to make this often when we lived in Hawaii. Every time we eat it now, it reminds me of the islands.
Serves: 6
Prep Time: 20 min
Cook Time: 10 min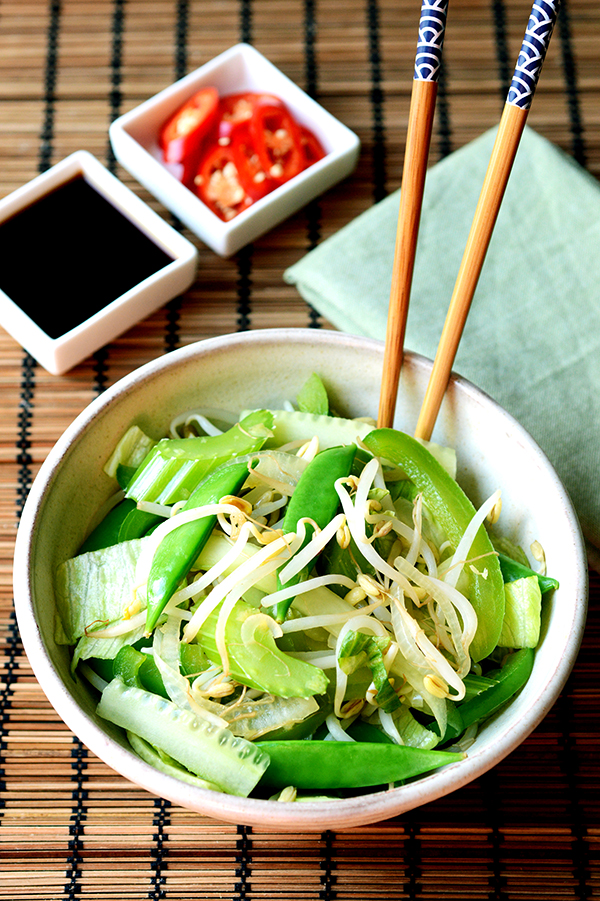 Ingredients
---
1 Tbsp
Fresh ginger root, grated
2 Stalks
Celery, thickly sliced
1
Green pepper, cut into strips
1/2
Cucumber, peeled and cut into strips
6
Lettuce leaves, coarsely chopped
Directions
---
In a wok or large pan, saute onion, ginger, and garlic in 2 tablespoons water for 1 minute. Add 1 tablespoon soy sauce, and the celery, green peppers, pea pods, and bean sprouts. Cook and stir over medium-high heat for 6 minutes. Add the remaining soy sauce, the cucumber, and the lettuce. Continue to cook 3 minutes longer. Sprinkle with lemon juice. Mix well. Serve hot.
Print Recipe
Print With Images
Print Without Images
Learn why the nutrition behind our recipes is so important with the
12-Day McDougall Program
. Do you have questions about whether a change in diet can help your ailment? Learn more about our
consultations
.