Chinese Hot Salad
By Mary McDougall
I used to make this often when we lived in Hawaii. Every time we eat it now, it reminds me of the islands.
Serves: 6
Prep Time: 20 min
Cook Time: 10 min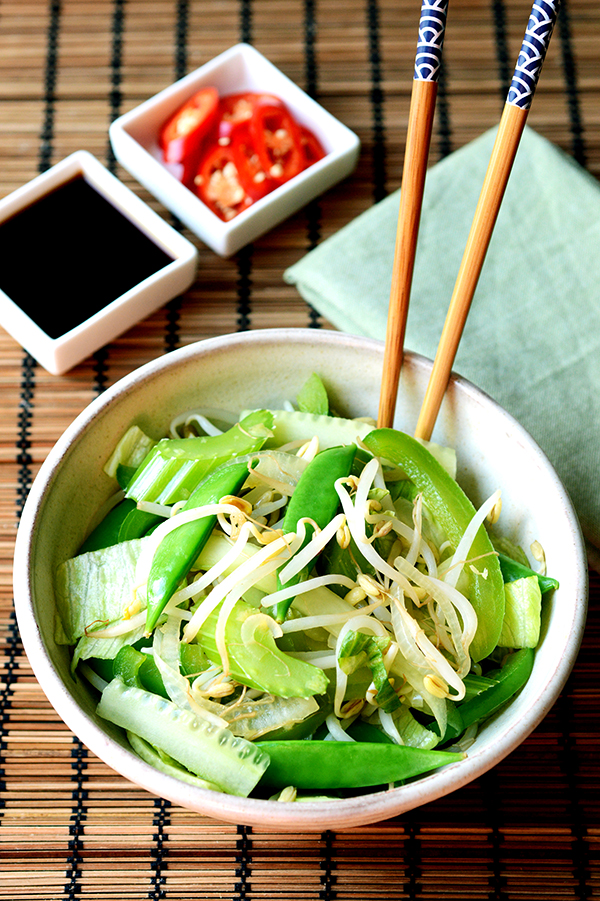 Ingredients
---
1 Tbsp
Fresh ginger root, grated
2 Stalks
Celery, thickly sliced
1
Green pepper, cut into strips
1/2
Cucumber, peeled and cut into strips
6
Lettuce leaves, coarsely chopped
Directions
---
In a wok or large pan, saute onion, ginger, and garlic in 2 tablespoons water for 1 minute. Add 1 tablespoon soy sauce, and the celery, green peppers, pea pods, and bean sprouts. Cook and stir over medium-high heat for 6 minutes. Add the remaining soy sauce, the cucumber, and the lettuce. Continue to cook 3 minutes longer. Sprinkle with lemon juice. Mix well. Serve hot.
Print Recipe
Print With Images
Print Without Images