Stella Blues Tofu Scramble
By Mary McDougall
My daughter, Heather, and I love the tofu scramble at Stella Blues Cafe on Maui, where they serve it with country-style potatoes and onions. This is my rendition of the dish, and I like it even better than the original. We serve it on its own, over potato pancakes, or with a side of hash browned potatoes for breakfast, lunch, or dinner.
Serves: 4
Prep Time: 15 min
Cook Time: 12 min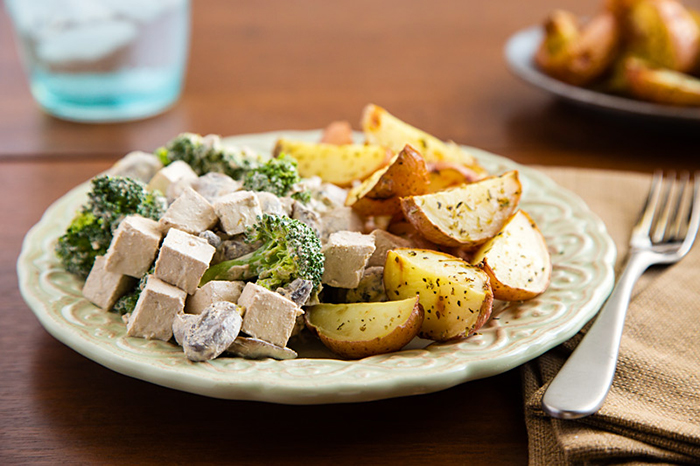 Ingredients
---
4 Cups
Small broccoli florets
1 Bunch
Scallions (green and white parts), chopped
1 Pound
Fresh mushrooms, sliced
1 Pound
Firm tofu, drained and cut into 1/2 inch cubes
2 Tsp
Soy sauce (optional)
Sriracha hot sauce (optional)
Directions
---
1 Steam the broccoli over boiling water just until it is tender, about 5 minutes. Remove from the heat, drain, and set aside.
2 Put the scallions and mushrooms in a large nonstick skillet with 2 tablespoons of water. Cook over medium-high heat, stirring frequently, for 5 minutes, until they begin to soften. Add the tofu and cook for 3 minutes. Add the Tahini Sauce (recipe in Dressings & Sauces), soy sauce, the reserved broccoli, and a few squirts of Sriracha, if you wish. Mix and cook 2 to 3 minutes, until everything is heated through and the sauce has thickened slightly.
3 Serve immediately.
TIP: To easily make this soy-free, our Operations Manager, Tiffany Hobson, makes this dish with 3 cups cubed, cooked potatoes instead of the tofu.
Print Recipe
Print With Images
Print Without Images
Learn why the nutrition behind our recipes is so important with the
12-Day McDougall Program
. Do you have questions about whether a change in diet can help your ailment? Learn more about our
consultations
.