Potato Hash
By Mary McDougall

Serves: 4
Prep Time: 20 min
Cook Time: 15 min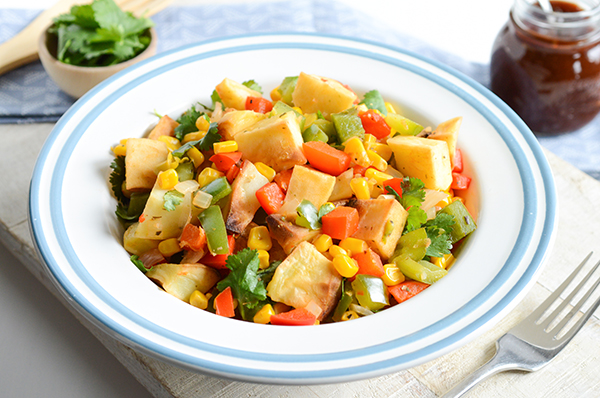 Ingredients
---
2
Large potatoes, peeled and diced
1
Green bell pepper diced
1 Cup
Frozen corn kernels, thawed
1/4 Cup
Chopped fresh parsley or cilantro
Freshly ground pepper to taste
Directions
---
Cook the potatoes in water to cover until just tender, about 5 minutes. Drain and set aside. Place the onion and green and red bell pepper in a saucepan with a small amount of water. Cook, stirring frequently, until just tender, about 4 minutes. Add corn and cook 1 additional minute. Remove from heat. Add the cooked potatoes, poultry seasoning, fresh parsley or cilantro, and pepper. Mix well. Place the mixture in a large nonstick skillet. Cook, stirring frequently, over medium heat until the potatoes brown slightly, about 10 minutes. Serve with your favorite salsa or barbecue sauce.
Print Recipe
Print With Images
Print Without Images
Learn why the nutrition behind our recipes is so important with the
12-Day McDougall Program
. Do you have questions about whether a change in diet can help your ailment? Learn more about our
consultations
.