Veggie Benedicts
By Mary McDougall
Leave off the tomato for the vegetable haters and this could also become one of their favorites.
Serves: 2-4
Prep Time: 15 min
Cook Time: 5 min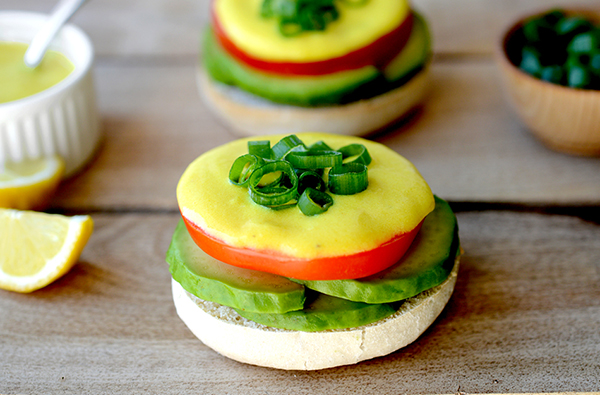 Ingredients
---
1 Cup
Cashew milk (recipe in Dressings & Sauces)
1 Tsp
Nutritional yeast powder
1 tbsp cornstarch mixed with 2 tbsp cold water
4
Fat-free English muffin halves
Directions
---
1 Place the Cashew Milk in a saucepan. Add all the remaining sauce ingredients and mix well with a whisk. Slowly bring to a boil, stirring constantly, until thickened and smooth. Set aside. (If you need to reheat this just before serving, do it slowly while stirring with a whisk.)
2 Slice the tomato into 4 medium-thick slices. Peel and slice the avocado. Toast the muffin halves. Place the tomato and the avocado on the English muffin halves. Ladle about 1/4 cup of the sauce over each muffin half and serve.
Hints: The sauce may be made 1 day ahead of time and slowly reheated. This saves time on a busy morning. The sauce is also great with asparagus, other vegetables or potatoes.
Print Recipe
Print With Images
Print Without Images
Learn why the nutrition behind our recipes is so important with the
12-Day McDougall Program
. Do you have questions about whether a change in diet can help your ailment? Learn more about our
consultations
.