Simple Griddle Cake Recipe
These are a wonderful savory griddle cake, best served with some kind of a topping, such as fresh tomatoes, salsa, mushroom sauce, gravy, or try Red Pepper Sauce (recipe in Dressings & Sauces).
Serves: Makes 11-12 griddle cakes
Prep Time: 15 min
Cook Time: 15 min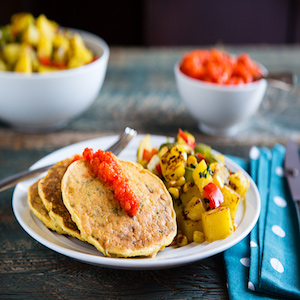 Ingredients
---
1 1/3 Cups
Non-dairy milk
1 Cup
Frozen corn kernels, thawed
1/2 Cup
Green onions, chopped
2-3 Tbsp
Black olives, chopped
2 Tbsp
Pimientos, chopped
2 Tbsp
Fresh parsley, chopped
Directions
---
1 Combine non-dairy milk and lemon juice in a measuring cup and set aside.
2 Combine the cornmeal, flour, baking powder, baking soda and salt in a mixing bowl. Combine the remaining ingredients in another mixing bowl. Add the non-dairy milk mixture to the cornmeal mixture and mix well, then stir in the vegetable mixture. Ladle batter by 1/4 cup scoops onto a hot non-stick griddle and cook until golden brown (this takes a bit longer than pancakes). Flip and cook until griddle cakes are browned on both sides. Keep warm in a low oven until ready to serve.
Notes: To make these without brown rice flour, use 1 1/4 cups of cornmeal. You may also use other vegetables in this dish to change up the flavors. If you use garlic, onion and peppers, you may want to saute them in a very small amount of vegetable broth before using in this recipe. Fresh chopped tomatoes and olives will need to be drained well before using in this dish. Try cilantro, or another favorite fresh herb of your choice, instead of parsley, for another flavorful variation.
Print Recipe
Print With Images
Print Without Images
Learn why the nutrition behind our recipes is so important with the
12-Day McDougall Program
. Do you have questions about whether a change in diet can help your ailment? Learn more about our
consultations
.