Tofu Scramble Recipe
By Mary McDougall
I have made many variations of scrambled tofu over the past 28 years. Almost all of them contain some onion and a few vegetables, as well as a variety of herbs and seasonings. This makes a delicious transition treat for those people missing their scrambled eggs.
Serves: 4-5
Prep Time: 10 min
Cook Time: 10 min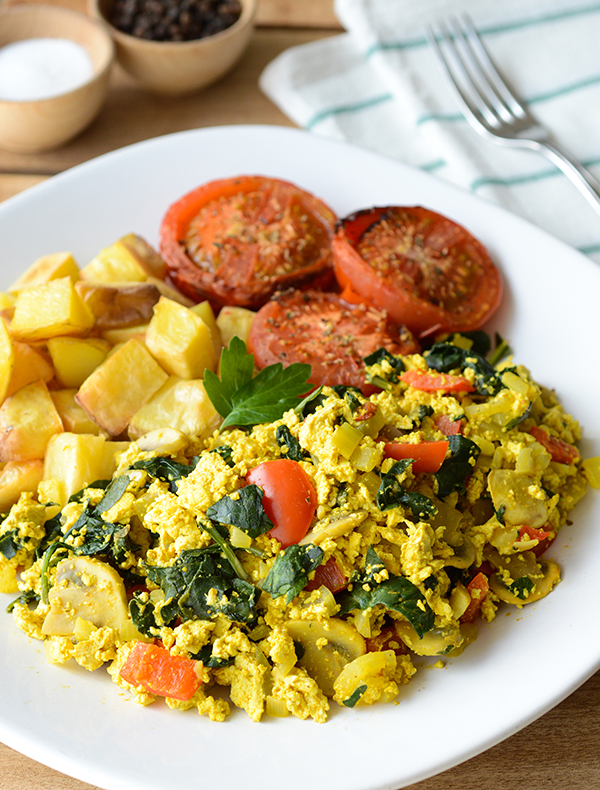 Ingredients
---
1/2 Cup
Fresh mushrooms, chopped
1 Pound
Firm tofu, crumbled
2 Tbsp
Prepared brown mustard
1 Cup
Cooked fresh spinach leaves, squeezed dry
Freshly ground pepper to taste
Directions
---
1 Place the broth in a large non-stick frying pan. Add the onion, bell pepper and mushrooms. Cook, stirring occasionally, for about 4 minutes. Add the crumbled tofu, the mustard and the seasonings. Cook, stirring occasionally, for another 5 minutes. Add the spinach, mix well, heat for another minute, and serve hot.
Hints: This may be made with water-packed or silken tofu. Be sure to use the lower fat variety. The water-packed tofu will yield a firmer scramble, while the silken tofu will be softer. Some of the seasonings may be omitted, but be sure to use the turmeric because it gives the scramble a familiar yellow color. You may also omit or change the vegetables as desired.
Print Recipe
Print With Images
Print Without Images
Learn why the nutrition behind our recipes is so important with the
12-Day McDougall Program
. Do you have questions about whether a change in diet can help your ailment? Learn more about our
consultations
.