Southwest Jambalaya
By Mary McDougall
This is one of my favorite hearty vegetable dishes. There are so many delicious vegetables in this dish that I always feel healthier just eating it!
Serves: 4
Prep Time: 15 min
Cook Time: 20 min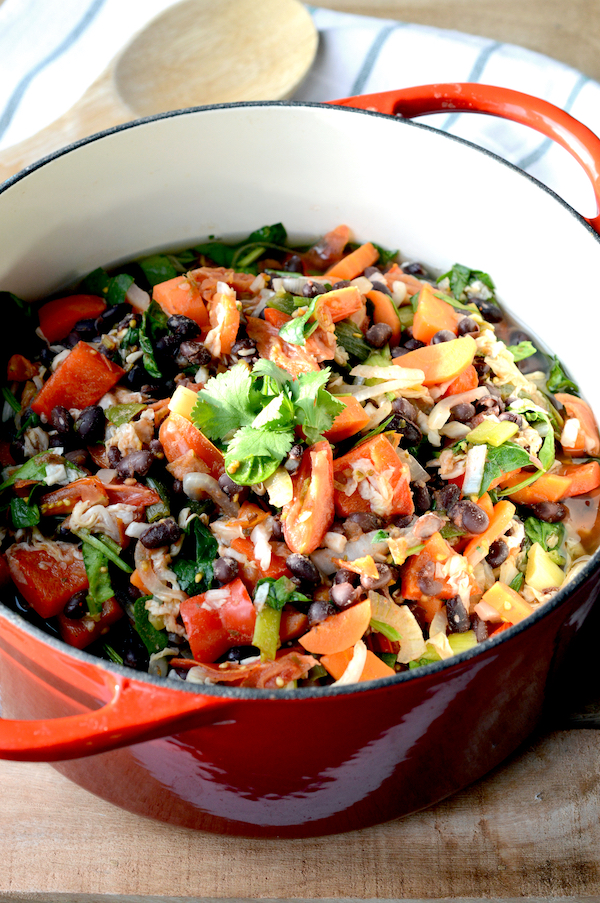 Ingredients
---
1
Onion, cut in half and sliced into rings
1
Carrot, cut in half lengthwise, then sliced
1-2 Cloves
Garlic, minced
1/2 Cup
Vegetable broth or water
1 Bunch
Green onions, sliced in 1 inch pieces
1 1/2 Cups
Napa cabbage, sliced
1 Tbsp
Soy sauce (optional)
2 Cups
Plum tomatoes, chopped
2 Cups
Packed chopped spinach
2-15 Ounce Cans
Black beans, drained and rinsed
Directions
---
1 Place the onion, bell pepper, carrot, and garlic in a large pot with the vegetable broth or water. Cook and stir over medium heat until vegetables soften slightly, about 4-5 minutes. Add the green onions, cabbage, soy sauce, chili powder and basil. Cook, stirring occasionally, for 10 minutes. Stir in the remaining ingredients, except the cilantro, and cook for 5 minutes. Stir in the cilantro and serve at once.
Hint: This is delicious in a bowl with some fresh bread, or try it over baked potatoes or rolled up in a tortilla.
Print Recipe
Print With Images
Print Without Images
Learn why the nutrition behind our recipes is so important with the
12-Day McDougall Program
. Do you have questions about whether a change in diet can help your ailment? Learn more about our
consultations
.