Jeff's Longevity Soup
By Jeff Novick
All you need is a large pot, a spoon, scissors and a can opener to make this soup. Now what could be easier than that!
Serves: 4
Prep Time: 5 min
Cook Time: 15 min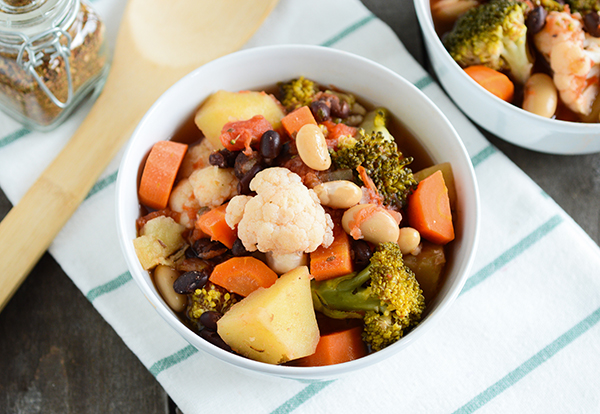 Ingredients
---
15-ounce Can
Diced tomatoes
15-ounce Can
Crushed tomatoes
2 15-ounce Cans
Beans (see hints below)
2 Pounds
Frozen vegetables (see hints below)
1-2 Cups
Cooked potatoes, grains, or pasta (see hints below)
Minced garlic, basil, oregano, hot pepper sauce
Minced garlic, grated ginger, smoked paprika, cumin, hot pepper sauce
Directions
---
1 Place all of the ingredients into a large pot and mix well. Bring to a boil and simmer for 15 minutes, until all vegetable are done.
Hints: Use any kind of beans that you like in this soup, either both the same kind or one can of each of 2 different kinds. (Jeff's favorites are kidney and garbanzo.) Look for Eden Organic, No-Salt Added Beans. Also look for Pomi tomatoes in shelf-stable boxes. Frozen vegetables usually come in 1 pound bags. Look for California Blend (cauliflower, broccoli and carrots) or Italian Blend (zucchini, green beans, broccoli and red pepper). This is a good use for leftover cooked starches, such as potatoes, rice or pasta. Use one of the 2 seasoning suggestions for either an Italian-style soup or a Moroccan-style soup. (Leave out the hot pepper sauce, if desired.) Or use your favorite seasoning blend to make this soup even easier.
Print Recipe
Print With Images
Print Without Images
Learn why the nutrition behind our recipes is so important with the
12-Day McDougall Program
. Do you have questions about whether a change in diet can help your ailment? Learn more about our
consultations
.