Summertime Chowder
By Mary McDougall
We really enjoy this soup in the summer when fresh corn and tomatoes are in season. Using the fresh corn and pulp gives this a delicious boost of flavor.
Serves: 6-8
Prep Time: 30 min
Cook Time: 45 min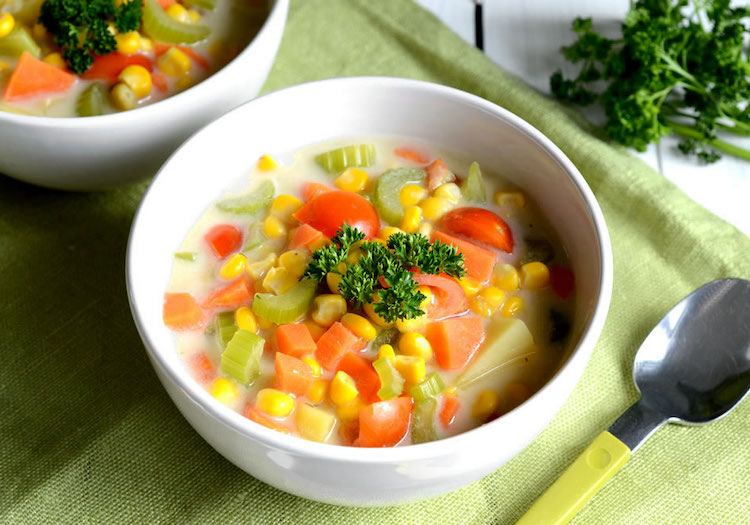 Ingredients
---
2 Stalks
Celery, thinly sliced
2
Potatoes, peeled and diced
1 Tbsp
Soy sauce (optional)
3
Tomatoes, seeded and chopped
Chopped parsley or alfalfa sprouts for garnish
Directions
---
1 In a large soup pot, saute onion, garlic, celery, and carrot in 1/2 cup of the water for about 10 minutes. While this is cooking, remove corn from cob using a sharp knife. With the back of the knife, scrape cob to extract creamy pulp. Reserve corn and pulp. (Should be about 2 cups.) Add the remaining 3 cups water, potatoes, and seasonings to soup pot. Bring to a boil. Add corn and pulp. Mix in well, reduce heat, cover and cook about 15 minutes.
2 Then add tomatoes to the soup pot. Cook an additional 10-15 minutes, then add 3 cups non-dairy milk, heat through and serve at once. Garnish with chopped parsley or alfalfa sprouts, if desired.
HELPFUL HINTS: Tomatoes are added later in the cooking to prevent them from getting too mushy. Frozen corn could be used in place of fresh corn, if desired. Use about 2 cups. The white pepper makes this a very spicy soup. Reduce to 1/4 teaspoon to make it less spicy.
Print Recipe
Print With Images
Print Without Images
Learn why the nutrition behind our recipes is so important with the
12-Day McDougall Program
. Do you have questions about whether a change in diet can help your ailment? Learn more about our
consultations
.