Moroccan Chickpea and Cauliflower Stew
By Emma Roche
Serves: 4-6
Prep Time: 10 min
Cook Time: 40 min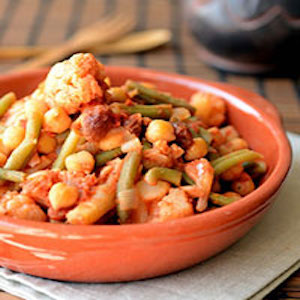 Ingredients
---
1/2 Cup
Low sodium vegetable broth (or water)
1 Tsp
Sweet (regular) paprika
2 1/2 Cups
Cooked chickpeas (or 2 15-oz. cans, drained and rinsed)
14.5 Ounce Can
Chopped tomatoes
1/2 Cup
Low sodium vegetable broth (or water)
16 Ounces
Frozen cauliflower florets
8 Ounces
Frozen green beans
1/4 Tsp
Ground black pepper
4-6 Cups
Cooked brown rice, to serve
Directions
---
1 Combine the onion, garlic, and 1/2 cup of vegetable broth in a large pot. Saute over a high heat for 5-6 minutes until the onion is soft. Add the chili powder, ground cumin, and sweet paprika. Cook, while stirring, for 2 minutes until the spices become fragrant. Add more water if necessary to prevent sticking.
2 Reduce the heat to medium, then add the chickpeas, tomatoes, cinnamon, extra 1/2 cup of vegetable broth, and raisins. Stir to combine. Cover and allow to cook for 15minutes.
3 Remove the lid. Add the cauliflower, green beans, and apricot preserves. Stir to combine. Return the lid to the pot and cook for a further 10 minutes.
4 Remove stew from the heat, stir through the black pepper, and season with salt to taste. Serve immediately on a bed of brown rice.
Print Recipe
Print With Images
Print Without Images
Learn why the nutrition behind our recipes is so important with the
12-Day McDougall Program
. Do you have questions about whether a change in diet can help your ailment? Learn more about our
consultations
.