Mac and Casheese
by Katie Mae, MS
I think it's safe to say everyone loves a warm, creamy Mac and Cheese. I know I do, if it's vegan of course. This American favorite is traditionally made with butter, milk and cheese, which is unnecessarily rich. This tasty alternative is made creamy and cheesy with cashews and nutritional yeast. Plus I threw in some nutrient-dense veggies to add even more color, texture and flavor. Enjoy!
Serves: 4-6
Prep Time: 10 min
Cook Time: 15 min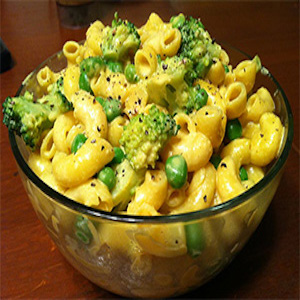 Ingredients
---
16 Ounces
Macaroni (preferably brown rice or quinoa-based noodles)
3/4 Cup
Nutritional yeast
1/2 Cup
Cashew powder (just ground-up cashews)
1 1/2 Tbsp
Tahini, salt-free preferred
1-2 Tsp
Mellow white miso (optional)
Freshly ground pepper to taste
Directions
---
1 Cook pasta according to package directions; drain and set pasta aside in original saucepan. In a separate medium saucepan, steam broccoli by placing 1 to 2 inches of water on bottom, a steam basket on top, and broccoli in the basket. Cover with lid slightly ajar and cook over medium heat for several minutes, or until desired softness is reached. Place peas in a small bowl and set aside.
2 Place all remaining ingredients in a blender and blend until sauce has a creamy consistency. Place pasta saucepan (containing pasta) over low heat. Fold sauce into pasta. Add broccoli and peas and stir well. Let cook for just a few minutes to allow flavors to marry. Sprinkle with black pepper and serve hot.
Print Recipe
Print With Images
Print Without Images
Learn why the nutrition behind our recipes is so important with the
12-Day McDougall Program
. Do you have questions about whether a change in diet can help your ailment? Learn more about our
consultations
.