Spicy Moroccan Chickpeas
By Mary McDougall
Since I really love garbanzo beans, I am always looking for new ways to enjoy them. I have been experimenting a lot with Middle Eastern flavors lately and this delicious stew is a delightful result. Serve this over whole wheat couscous or in a bowl by itself.
Serves: 6
Prep Time: 10 min
Cook Time: 55 min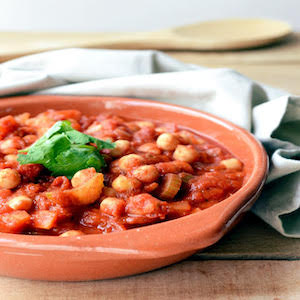 Ingredients
---
1 3/4 Cups
Vegetable broth
2-15 Ounce Cans
Garbanzo beans, drained and rinsed
15 Ounce Can
Fire-roasted tomatoes, chopped
2 Tbsp
Fresh cilantro, chopped
Directions
---
Place 1/4 cup of the broth in a large pot. Add the onions, celery, carrots and garlic. Cook, stirring frequently, for 5 minutes, until vegetables soften slightly. Stir in the spices and mix well. Add the remaining vegetable broth, the garbanzos, the tomatoes and tomato paste. Mix well, bring to a boil, reduce heat to low, cover and cook for 45 minutes, stirring occasionally. Add cilantro and lemon juice and cook for another minute to allow flavors to blend.
Print Recipe
Print With Images
Print Without Images
Learn why the nutrition behind our recipes is so important with the
12-Day McDougall Program
. Do you have questions about whether a change in diet can help your ailment? Learn more about our
consultations
.