Layered Tex-Mex Lasagna
By Mary McDougall
Instead of rolling up each enchilada individually, this recipe layers the filling between corn tortillas and covers it all with the enchilada sauce.
Serves: 6-8
Prep Time: 20 min
Cook Time: 45 min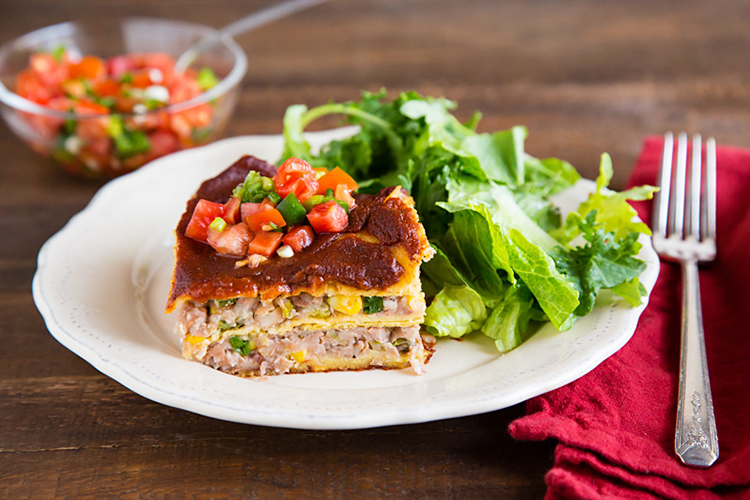 Ingredients
---
2-8 Ounce Cans
Tomato sauce
4 Cups
Mashed pinto beans (fat-free canned beans may be used)
1 Cup
Green onions, chopped
1 1/2 Cups
Frozen corn kernels, thawed
2.5 Ounce Can
Sliced ripe olives, drained
1-2 Tbsp
Chopped green chilies (optional)
Directions
---
1 Sauce: Place all ingredients for the sauce in a saucepan. Mix well with a whisk until well combined. Cook and stir over medium heat until thickened, about 5 minutes. Taste and add more chili powder if desired. Set aside.
2 Preheat oven to 350 degrees.
3 To assemble casserole: Place the beans in a large bowl. Add the onions, corn, olives and green chilies (if you wish). Mix gently until well combined.
4 Place 1 1/2 cups of the sauce in the bottom of a non-stick 9 x 13 inch baking dish. Place 3-4 corn tortillas over the bottom of the baking dish. Spread half of the bean mixture over the tortillas. Place another 3-4 tortillas over the bean mixture and then spread the remaining bean mixture on top of those tortillas. Cover with 3-4 more tortillas and then pour the remaining sauce over the tortillas. Cover with a silicone baking mat. Bake for 45 minutes. Remove from oven and let rest for about 15 minutes before cutting. Serve with salsa and tofu sour cream, if desired.
Hints: The amount of corn tortillas that you need will depend on the size of your baking dish. Just cover the bottom as well as you can with the tortillas (on top of the first amount of enchilada sauce) and then use that same amount for the 2nd and 3rd layer.
Print Recipe
Print With Images
Print Without Images
Learn why the nutrition behind our recipes is so important with the
12-Day McDougall Program
. Do you have questions about whether a change in diet can help your ailment? Learn more about our
consultations
.