3 Bean Mole
By Emma Roche
While it may not be a traditional mole, this dish definitely delivers on flavor- richly spiced and slightly smoky, with hints of chocolate and cinnamon. You can serve it a number of different ways- as a main dish with brown rice and salad, as a filling for tortillas, or even as a sauce for pasta.
Feel free to use different varieties of beans in this recipe. We've chosen black beans, pinto beans and kidney beans because they are more traditional, but white beans and lentils will also work well.
Serves: 4
Prep Time: 15 min
Cook Time: 30 min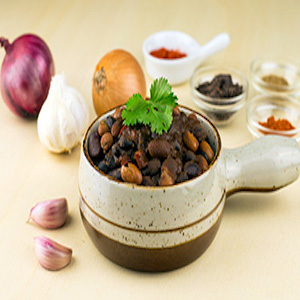 Ingredients
---
1 1/2 Cups
Vegetable broth
2 Tsp
Ground coriander seed
1 1/2 Tbsp
Maple or date syrup
1/2 Cup
Low sodium vegetable broth, extra
1
Medium brown onion, diced
1
Medium red pepper, diced
1 Cup
Cooked black beans (or 1 x 15 ounce can, drained and rinsed)
1 Cup
Cooked kidney beans (or 1 x 15 ounce can, drained and rinsed)
1 Cup
Cooked pinto beans (or 1 x 15 ounce can, drained and rinsed)
Directions
---
1 To prepare the mole sauce, combine all ingredients in a large bowl or jug, and mix to combine. Set aside.
2 Heat the extra 1/2 cup of vegetable broth in a large pot. Add onion, garlic and red pepper; saute for 5 minutes until softened. Add the prepared mole sauce. Bring mixture to a boil, then reduce the heat to a low simmer and cook for 7-8 minutes until thickened.
3 Add all beans, and stir well. Cover with a lid and simmer for 10 minutes before removing from the heat.
4 Serve the mole alongside salad and steamed brown rice, or use as a filling for corn tortilla wraps.
Print Recipe
Print With Images
Print Without Images
Learn why the nutrition behind our recipes is so important with the
12-Day McDougall Program
. Do you have questions about whether a change in diet can help your ailment? Learn more about our
consultations
.