Asian Noodles and Vegetables
By Mary McDougall
Serves: 6
Prep Time: 30 min
Cook Time: 15 min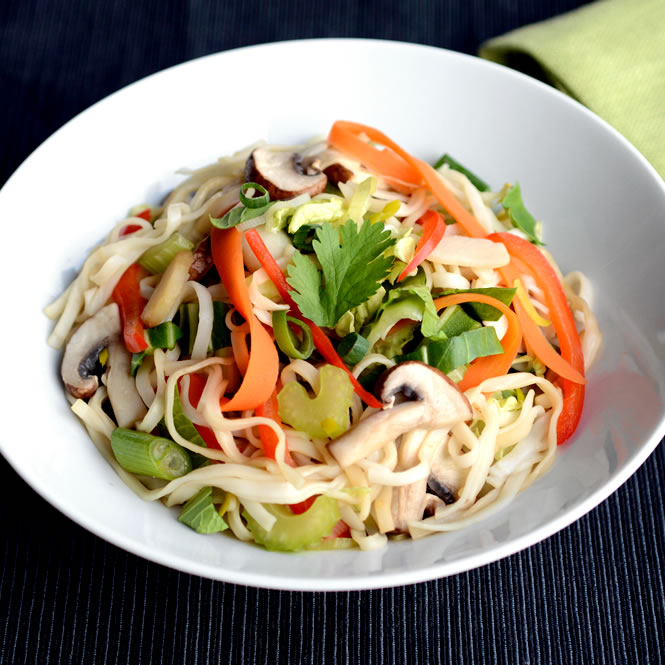 Ingredients
---
8 Ounces
Linguini or spaghetti or 14 ounces rice noodles
1 1/4 Cup
Vegetable broth
1 Tbsp (or To Taste)
Soy sauce
1 Tbsp
Grated fresh gingerroot
1
Red bell pepper, cut into thin strips
1/2 Pound
Sliced fresh mushrooms
1 Bunch
Green onions, cut into 1 inch pieces
1
Leek, white and light green parts thinly sliced
1 Cup
Shredded napa cabbage
5 Ounce Can
Sliced water chestnuts, drained
Directions
---
1 Put a large pot of water on to boil. Drop in the uncooked noodles of your choice and cook until tender. Drain and set aside.
2 Meanwhile, place 1/2 cup of the vegetable broth in a large saute pan or wok. Add the soy sauce (1 tbsp or to taste), the garlic and ginger and heat to boiling. Stir in the carrot and celery and cook for 3 minutes. Add the remaining vegetables and cook, stirring occasionally, for 7 minutes.
3 Mix the remaining vegetable broth together with the cornstarch. Add to the vegetable mixture while stirring, and cook and stir until thickened. Pour the vegetable mixture over the pasta and toss well to mix. Serve at once.
Print Recipe
Print With Images
Print Without Images
Learn why the nutrition behind our recipes is so important with the
12-Day McDougall Program
. Do you have questions about whether a change in diet can help your ailment? Learn more about our
consultations
.