Lentil and Rice Loaf
By Cathy Fisher
This flavorful loaf is perfect for anytime you want a hearty main dish. It can be made with fresh or dried herbs. Make two loaves while you're at it and freeze one for leftovers. This is delicious topped with Creamy Mushroom Gravy (recipe in Dressings & Sauces)! (Prepare your ingredients while the rice and lentils are cooking.)
Serves: 1 loaf
Prep Time: 55 min
Cook Time: 50 min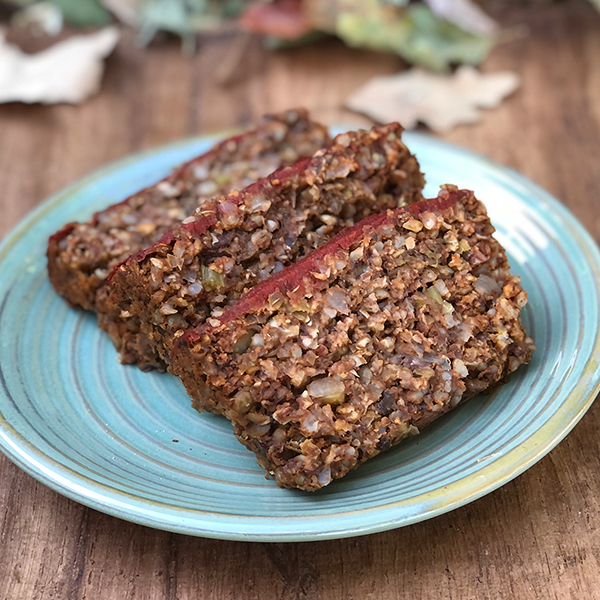 Ingredients
---
1/2 Cup
Brownish-green lentils
1/2 Cup
Short-grain brown rice
5
Medium white or cremini mushrooms
3/4 Cup
Quick rolled oats
1 1/2 Tsp
Rosemary, minced (or 1/2 teaspoon ground/dried)
2 Tsp
Thyme, minced (or 1 teaspoon dried)
1 Tbsp
Fresh sage, minced (or 1 teaspoon dried/rubbed sage)
1/2 Cup
Pecans or walnuts, chopped (optional)
Directions
---
1 In a medium sauce pan on high heat, combine water, lentils, rice, poultry seasoning, and granulated onion. Bring to a boil, then turn down to simmer and cook covered for 45 minutes. When done cooking, remove from the heat and let stand for 10 minutes with the lid still on.
2 Preheat oven to 350 degrees. Line a standard size loaf pan (9 by 5 by 3-inch) with parchment paper and set aside (or use a silicone loaf pan).
3 In a medium skillet on high heat, add 1 tablespoon of water. When the water begins to sputter, add the chopped onion, mushrooms, and celery, and cook stirring for about 3 minutes, adding water as needed. Add the garlic, and cook stirring for an additional 2 minutes, until the vegetables have softened, adding water as needed. Remove from heat and set aside.
4 Using a large bowl, combine the oats, tomato paste, rosemary, thyme, sage, parsley, and nuts. When the cooked vegetables, and rice and lentils have cooled for about 10 minutes, add them to the bowl as well, and stir well until all ingredients are thoroughly mixed.
5 Place about half of the mixture into a food processor and pulse 5 to 6 times (so it gets blended slightly, but is still somewhat chunky). Spoon this into the loaf pan. Place the remaining mixture into the food processor and blend in the same way. Add to the loaf pan.
6 Press down firmly and into the corners. Shape the top flat or with a slight rise down the middle. Cover with a silicone baking mat and cook for 30 minutes. Remove the silicone baking mat and cook for another 20 to 25 minutes until the top is browned. Remove and let cool at least 10 minutes before slicing and serving.
Print Recipe
Print With Images
Print Without Images
Learn why the nutrition behind our recipes is so important with the
12-Day McDougall Program
. Do you have questions about whether a change in diet can help your ailment? Learn more about our
consultations
.