Cheezy Baked Macaroni
By Mary McDougall
I have had many requests for a macaroni & cheese substitute, mainly from people with children. This recipe was developed with the children in mind, but Heather and I really like it, too.
Serves: 6-8
Prep Time: 15 min
Cook Time: 30 min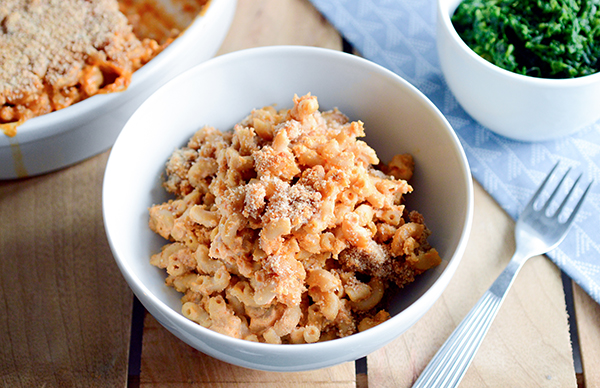 Ingredients
---
12 Ounces
Uncooked macaroni
1/4 Cup
Nutritional yeast
2 1/2 Tbsp
Chopped pimientos
1/4-1/3 Cup
Whole wheat bread crumbs
Directions
---
1 Preheat oven to 350 degrees.
2 Place a large pot of water on to boil. Drop in the pasta and cook until just tender, about 6 minutes, depending on the kind of pasta used. Drain and set aside in a large bowl.
3 Meanwhile, place the cashews in a food processor with half of the water. Process until fairly smooth, then add the remaining ingredients, except the bread crumbs, and process for several minutes until mixture is VERY smooth. Pour the mixture over the pasta and stir to combine. Transfer to a covered casserole dish, sprinkle the bread crumbs over the top, cover and bake for 30 minutes.
Hint: Use any of your family's favorite tubular pasta in this recipe. The initial cooking time may have to be adjusted slightly depending on which type of pasta you choose. Cook until just tender, do not overcook because the pasta will cook again while baking.
This may be prepared ahead of time and refrigerated until ready to bake. Add about 10 minutes to the baking time.
Print Recipe
Print With Images
Print Without Images
Learn why the nutrition behind our recipes is so important with the
12-Day McDougall Program
. Do you have questions about whether a change in diet can help your ailment? Learn more about our
consultations
.