Fruit and Oat Breakfast Bars
By Emma Roche
Too hot for your regular morning oats? Then give these breakfast bars a go! They're a great grab-and-go option for busy mornings, and can also be enjoyed as a snack or dessert. If you're not a fan of raisins, substitute another variety of chopped dried fruits in their place. Dates, apples, and apricots all work well-just keep in mind that they are likely to cost a little more.
Serves: Makes 12 bars
Prep Time: 15 min
Cook Time: 25 min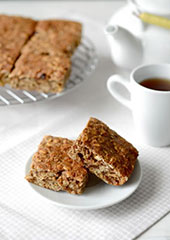 Ingredients
---
2 Medium
Very ripe bananas, mashed
Directions
---
1 Boil 1 1/2 cups of water. Place the raisins in a heatproof bowl or dish, cover with the boiling water, and set aside to soften.
2 Preheat the oven to 355F. Line a large square or rectangular baking dish (approx. 10 x 10 inches) with baking paper.
3 Mash the bananas in a large mixing bowl until smooth. Add the applesauce, flax seed, non-dairy milk, tahini, and cinnamon. Mix well. Drain the raisins, and shake to remove any excess liquid. Add them to the bowl, along with the oats, flour, and baking powder. Stir gently until just combined, you don't want to over mix the batter as it may become dense and chewy when baked. The mixture should be fairly firm, but quite sticky.
4 Pour the batter into the prepared baking dish, and spread it out in an even layer using a spatula or the back of a spoon. Bake for 22-30 minutes until firm and golden (cooking time can vary depending on your oven).
5 Remove from the oven, and allow it to cool for 10 minutes before turning out onto a wire rack. Once it has cooled completely, slice into 12 bars or squares. Transfer to an airtight container or zip lock bags to keep the slice from drying out.
Print Recipe
Print With Images
Print Without Images
Learn why the nutrition behind our recipes is so important with the
12-Day McDougall Program
. Do you have questions about whether a change in diet can help your ailment? Learn more about our
consultations
.