Cranberry Spice Granola
By Emma Roche of PlantPlate
If you pick up a package of granola in the supermarket, it may surprise you to discover just how much processed sugar and oil it contains! That's why we came up with a simple, healthy, oil-free alternative. Dried cranberries add tartness and texture, while the pumpkin seeds give it a lovely nuttiness.
Serves: 6
Prep Time: 10 min
Cook Time: 30 min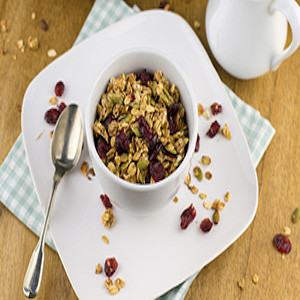 Ingredients
---
2 1/2 Tbsp
Agave or maple syrup
2 Tsp
Finely grated orange rind
1/4 Cup
Pumpkin seeds (can substitute sunflower seeds)
1/2 Cup
Dried cranberries (can substitute raisins)
Directions
---
Preheat oven to 340 degrees. Line one large baking tray with baking paper. Combine all ingredients, except for the dried cranberries, in a large mixing bowl. Stir until well combined and none of the oats are dry. Spread granola mixture out over baking tray in a thin layer. Bake in the oven for 15 minutes; remove, stir with a spatula and return to the oven for a further 15 minutes. Remove from the heat and mix through the dried cranberries. Set aside to cool for 1 hour. (Don't worry if it still seems a little wet when you take it out of the oven- it will crisp up as it cools down.) Transfer to an airtight jar or plastic container, refrigerate, and serve as needed.
Print Recipe
Print With Images
Print Without Images
Learn why the nutrition behind our recipes is so important with the
12-Day McDougall Program
. Do you have questions about whether a change in diet can help your ailment? Learn more about our
consultations
.