Hot Cereal
From The McDougall Program for Maximum Weight Loss.
Serves: 1
Prep Time: 2 min
Cook Time: 5 min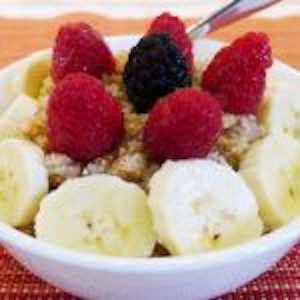 Ingredients
---
1 Cup
Hot whole-grain cereal (see below)
Chopped fruit, such as bananas, apples, or pears
Directions
---
1 Bring the water to a boil in a saucepan. Add the cereal. Stir, reduce the heat to low, and cook uncovered until done, about 5 minutes. Top with the fruit.
2 For Hot Cereal you can use seven grain cereal, hot apple granola, or another favorite.
Print Recipe
Print With Images
Print Without Images
Learn why the nutrition behind our recipes is so important with the
12-Day McDougall Program
. Do you have questions about whether a change in diet can help your ailment? Learn more about our
consultations
.