Enchilada Strata
By Chef AJ
Instead of rolling each enchilada individually, you can make this, delicious, hearty colorful casserole in less time than it takes to make individual enchiladas.
Serves: 6-8
Prep Time: 20 min
Cook Time: 60 min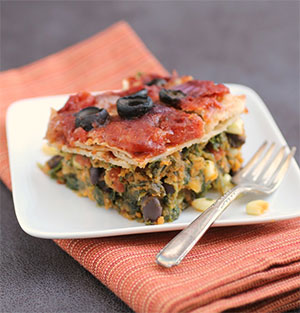 Ingredients
---
28 Ounce Can
Salt free tomatoes, fire roasted preferred
2 1/2 Pounds
Sweet potatoes, mashed
1 Pound Bag
Frozen roasted corn, defrosted
4 Ounce Can
Mild green chiles
2 15 Ounce Cans
Salt-free black beans, rinsed and drained (or 3 cups of cooked beans)
2 16 Ounce Bags
Frozen kale, defrosted with all of the liquid squeezed out.
Topping: sliced olives and scallions (optional)
Directions
---
1 Sauce: Place the onion, garlic and liquid in a pot and cook 8-10 minutes until soft. Stir in tomato and spices and cook on low heat for 15 minutes. Add the arrowroot powder to a small amount of cold water and dissolve, then add to sauce and stir until thickened.
2 Filling: Peel sweet potatoes and boil or steam until soft. Process in a food processor fitted with the "S" blade until smooth and creamy. Place into a large bowl and stir in the salsa, corn, beans and kale. Mix well. I recommend using food service gloves so that everything gets fully incorporated.
3 Assembly: Preheat oven to 350 degrees F. Cover the bottom of a large baking dish with half of the enchilada sauce. A lasagna pan (10″x14″ or 11″x15″) is recommended. Place 6 tortillas on top of the enchilada sauce and then gently and evenly place the sweet potato mixture on top of the tortillas. Top with the remaining 6 tortillas. Pour the remaining sauce over the tortillas and sprinkle sliced olives, if using, over the top. Bake for 30 minutes. Sprinkle with scallions. and serve.
Print Recipe
Print With Images
Print Without Images
Learn why the nutrition behind our recipes is so important with the
12-Day McDougall Program
. Do you have questions about whether a change in diet can help your ailment? Learn more about our
consultations
.