Chana Masala
By Mary McDougall
This is my favorite curried garbanzo bean dish. I always have canned garbanzos and tomatoes in my pantry and fresh spinach in my refrigerator so I can prepare this easily whenever I get the urge.
Serves: 6-8
Prep Time: 20 min
Cook Time: 40 min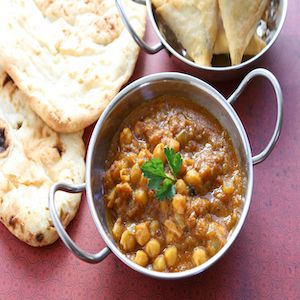 Ingredients
---
14.5 Ounce Can
Diced tomatoes
2-14.5 Ounce Cans
Garbanzo beans, drained and rinsed
4 Ounce Can
Chopped green chilies
4 Cups
Fresh spinach, chopped
2-3 Tbsp
Fresh cilantro, chopped (optional)
Directions
---
1 Place the onion, garlic and ginger in a large non-stick pot with the vegetable broth. Cook, stirring frequently until onion softens slightly. Stir in the coriander, cumin, turmeric and cayenne. Continue to cook and stir for 1 minute. Add the tomatoes and mix well. Then add the garbanzo beans, green chilies and water. Bring to a boil, reduce heat, cover and cook for 20 minutes. Add the spinach, mix well and continue to cook for an additional 10 minutes. Sprinkle with cilantro before serving, if desired.
Hint: To simplify this dish, leave out the coriander, cumin, turmeric and cayenne, and substitute 2 tablespoons of curry powder.
Print Recipe
Print With Images
Print Without Images
Learn why the nutrition behind our recipes is so important with the
12-Day McDougall Program
. Do you have questions about whether a change in diet can help your ailment? Learn more about our
consultations
.