Curried Eggplant
By Mary McDougall
From The McDougall Program for Maximum Weight Loss book.
Serves: 4
Prep Time: 30 min
Cook Time: 45 min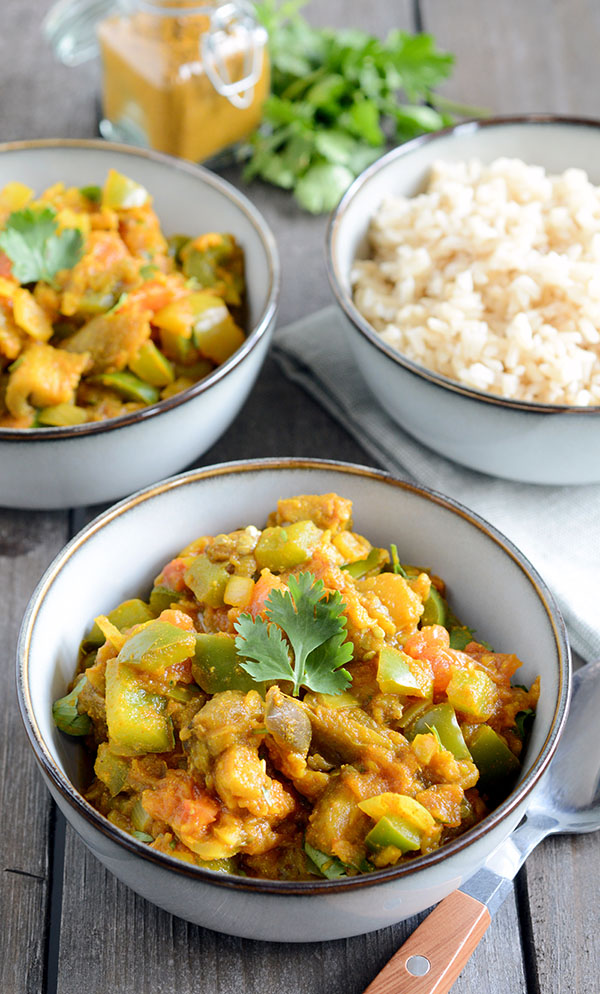 Ingredients
---
1 Tbsp
Grated fresh ginger
1
Green bell pepper, chopped
1
Tomato, peeled and chopped (see note)
1/4 Tsp
Freshly ground pepper
1 Tbsp
Soy sauce (optional)
1/2 Tsp
Chopped fresh cilantro
Directions
---
1 Preheat the oven to 400F.
2 Prick eggplant all over with a fork. Place in a shallow baking dish and bake until very soft, about 45 minutes. Remove from the oven and cool. Cut in half and scoop out the pulp. Chop the pulp and set aside.
3 Place 1/4 cup of water in a saucepan. Add the onion, ginger, and cumin seeds. Cook, stirring occasionally, until the onion is softened slightly. Add the green pepper, tomato, coriander, turmeric, ground cumin, paprika, and ground pepper. Cook, stirring occasionally, for five minutes. Add the remaining water and soy sauce. Cook for another five minutes. Stir in the eggplant and cook for five minutes longer. Add the cilantro, stir several times, and remove from heat.
NOTE: To peel the tomato, plunge it into boiling water, then remove it and slip off the skin.
Print Recipe
Print With Images
Print Without Images
Learn why the nutrition behind our recipes is so important with the
12-Day McDougall Program
. Do you have questions about whether a change in diet can help your ailment? Learn more about our
consultations
.