Baja Vegetable Wraps
This keeps well in the refrigerator and reheats well, so it makes a fast meal for lunch later in the week.
Serves: 6-8
Prep Time: 20 min
Cook Time: 20 min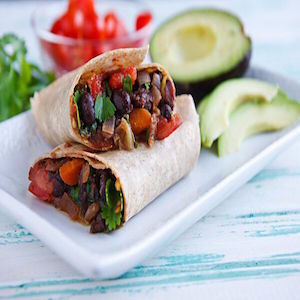 Ingredients
---
1
Green bell pepper, chopped
1
Carrot, cut in half lengthwise, then sliced
1 Bunch
Green onions, sliced in 1 inch pieces
1 1/2 Cups
Napa cabbage, sliced
1 Tbsp
Soy sauce (optional)
2 Cups
Fresh tomatoes, chopped
2 Cups
Fresh spinach, chopped
2-15 Oz. Cans
Black beans, drained and rinsed
1-2 Tbsp
Fresh cilantro, chopped
Directions
---
1 Place the onion, bell pepper, carrot, and garlic in a large pot with the vegetable broth. Cook, stirring occasionally, for about 4-5 minutes. Add green onions, Napa cabbage, soy sauce, chili powder and oregano. Continue to cook, stirring occasionally, for about 10 more minutes. Add the tomatoes, spinach, beans and salsa. Cook an additional 5 minutes. Remove from heat, stir in the cilantro and hot sauce to taste. Roll up in a warm tortilla and eat.
Hint: This may also be served over baked potatoes or whole grains.
Print Recipe
Print With Images
Print Without Images
Learn why the nutrition behind our recipes is so important with the
12-Day McDougall Program
. Do you have questions about whether a change in diet can help your ailment? Learn more about our
consultations
.