Waffles
By Heather McDougall
These can easily be made with extra pancake batter left over from earlier in the week. Simply add more non-dairy milk and stir to get all the lumps out. We have a great non-stick farm animal waffle maker by Villaware that my boys love. They fight over the barn waffle, but there is also a pig, chicken and cow to choose from. For some reason, eating food in a fun shape makes things taste better for young children. We serve these with fruit, honey or syrup.
Serves: Makes 8-10 waffles
Prep Time: 10 min
Cook Time: 10 min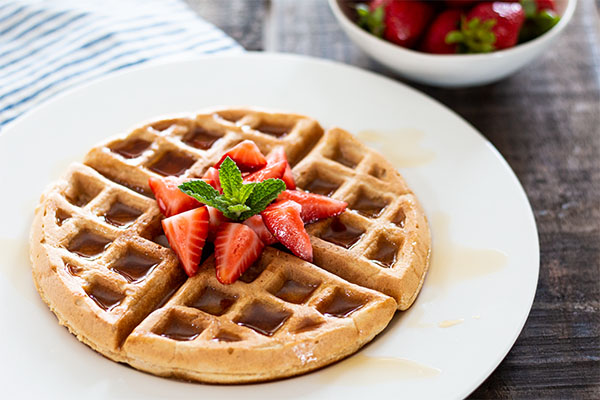 Ingredients
---
3/4 Cup
Whole wheat pastry flour
3/4 Cup
Unbleached white flour
1 Tbsp
Egg replacer mixed in 1/4 cup water
1 1/2 - 2 Cups
Non-dairy milk
Directions
---
1 Mix the flours, baking powder, nutritional yeast and salt together in a bowl. Mix the egg replacer and water and beat until frothy. Stir in the non-dairy milk and agave nectar and mix again. Pour into the dry ingredients and stir to mix. Do not over-beat.
2 Heat a non-stick waffle iron until hot. Pour 1/2 to 1 cup of mixture onto the dry, heated waffle iron and close top. Cook until nicely browned and waffle pulls away from the top of the waffle iron. Most waffle irons "beep" when waffle is ready. (This will vary depending on the kind of waffle iron that you have, maybe 3-5 minutes.) Repeat until all mixture has been used.
Hint: This makes a delicious, light waffle that rises as it cooks. For a slightly thinner waffle, (or if you let your batter sit too long before using) thin batter with a little more non-dairy milk, stirring to mix well before ladling into the waffle iron. This may also be made with all whole-wheat flour, but it will be slightly heavier in texture. These may be refrigerated and heated in the microwave or oven at a later time. They may also be frozen and heated in a toaster.
Print Recipe
Print With Images
Print Without Images
Learn why the nutrition behind our recipes is so important with the
12-Day McDougall Program
. Do you have questions about whether a change in diet can help your ailment? Learn more about our
consultations
.