Tu-no Salad Wraps
By Cathy Fisher
Chickpeas-aka garbanzo beans-are a perfect plant-based substitute for canned tuna when it comes to creating a healthier version of tuna salad. For this recipe, the Tu-no salad is wrapped in warm corn tortillas and steamed collard leaves.
Serves: 6
Prep Time: 15 min
Cook Time: 2 min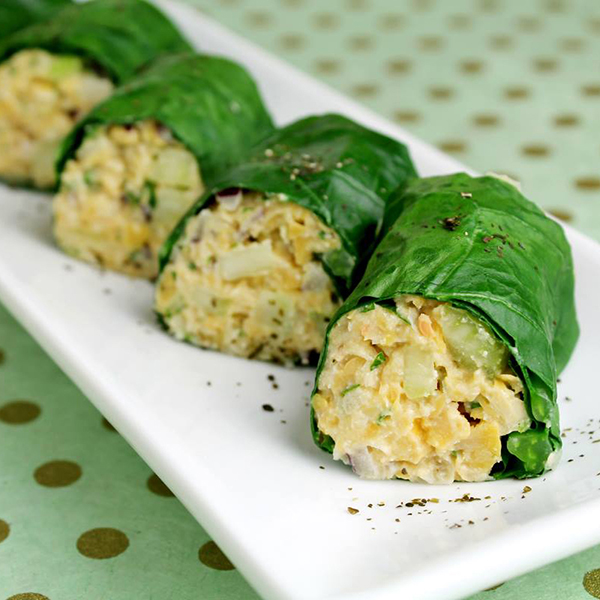 Ingredients
---
2-15 Ounce Cans
Chickpeas/garbanzo beans
2 Tbsp
Chopped fresh basil
1/4 Cup
Curly or Italian parsley, chopped
1
Avocado, small diced (optional)
1/2 Cup
Raw, plain cashews
2 Tsp
Apple cider or rice vinegar
1 Tbsp
Prepared/wet mustard
Directions
---
1 Place the drained chickpeas into the bowl of your food processor and pulse briefly, just until beans are broken up and sticking together slightly. Scrape this into a large bowl and toss with the celery, onion, basil, parsley and avocado.
2 Blend the dressing ingredients (water, cashews, lemon juice, vinegar, mustard and garlic powder) in a high-speed blender until smooth. Add this to the bowl of garbanzos and vegetables, and mix thoroughly. Serve in corn tortillas or wrapped in collard green leaves. (To prepare leaves: after washing the leaves and trimming the thick stem end, place each leaf in almost-boiling water for 1 minute to soften; remove and pat dry before filling and wrapping. Tuck or trim ends, then cut in half.
Notes: For a salt-free mustard, look for Westbrae Natural brand. For salt-free canned beans, look for Eden brand. Look for corn tortillas that are made with only corn, water and lime as their ingredients.
Print Recipe
Print With Images
Print Without Images
Learn why the nutrition behind our recipes is so important with the
12-Day McDougall Program
. Do you have questions about whether a change in diet can help your ailment? Learn more about our
consultations
.