Tomato Dressing
From the McDougall Program for Maximum Weight Loss.
Serves: Makes 1 cup
Prep Time: 5 min
Cook Time: 0 min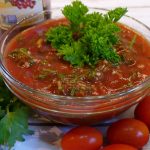 Ingredients
---
3/4 Cup
Tomato, V-8, or spicy tomato juice
1/4 Cup
Red wine vinegar or balsamic vinegar
1 Tbsp
Fresh parsley, chopped
1 Tbsp
Chive or scallion, chopped
Directions
---
Combine all the ingredients in a jar and shake well to mix. Let stand for 1 to 2 hours before serving to allow time for the guar gum to thicken the dressing.
Print Recipe
Print With Images
Print Without Images
Learn why the nutrition behind our recipes is so important with the
12-Day McDougall Program
. Do you have questions about whether a change in diet can help your ailment? Learn more about our
consultations
.