Cheeze Sauce
By Mary McDougall
I have been making versions of this "cheese" sauce for over 20 years. This is still my favorite because it is easy, fast and tastes great
Serves: Makes about 2 cups
Prep Time: 10 min
Cook Time: 0 min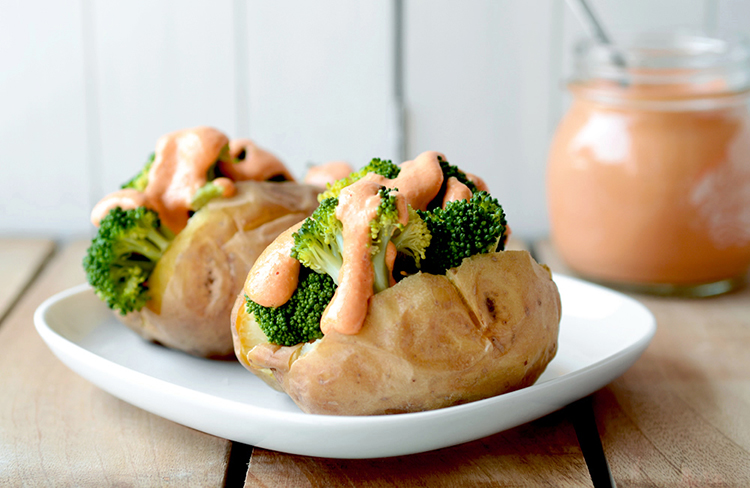 Ingredients
---
1 Cup
Raw cashews (see hints below)
2-3 Tbsp
Nutritional yeast
1/4 Tsp
Sea salt (optional)
Directions
---
1 Place the cashews in a blender jar (a high-speed blender like the VitaMix makes this much smoother and creamier) and add just enough of the water to cover the cashews. Process until smooth. Add the rest of the ingredients and process again until very smooth and creamy. Add more water if necessary to get the consistency that you want. Using less water will make this more spreadable, using more water will make it more sauce-like.
Hints: If you soak the cashews for at least an hour or two before processing the mixture, it will be smoother. Soak them in water to cover and then drain before using in the recipe. Start out with 2 tablespoons of the nutritional yeast and add more for a "cheesier" flavor. The flavors are more intense if you make this at least a day before you want to use it. This will keep in the refrigerator for about 1 week. Use to top vegetables, drizzle on pizza, or spread on a sandwich. Try making this into a "Grilled Cheese" sandwich with tomatoes and basil. Just spread on the "cheese" and grill on a dry non-stick pan until brown on both sides.
Print Recipe
Print With Images
Print Without Images
Learn why the nutrition behind our recipes is so important with the
12-Day McDougall Program
. Do you have questions about whether a change in diet can help your ailment? Learn more about our
consultations
.