Spinach-Mango Salad
By Cathy Fisher
This light, colorful, and fruity spinach salad is a refreshing alternative to everyday green salads. It calls for fresh fennel, which can be found at most grocery stores. It has a light licorice taste that is wonderful with the mango and lime juice.
Serves: 4
Prep Time: 15 min
Cook Time: 0 min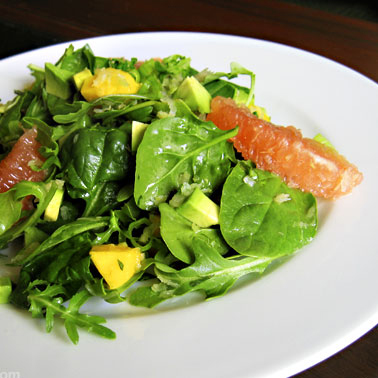 Ingredients
---
4 Cups (packed)
Fresh spinach leaves
2 Cups (packed)
Fresh arugula
1
Mango, peeled, seeded, and chopped
1
Grapefruit, peeled and cut into sections
1/2 Cup
Fresh fennel, thinly sliced
1
Medium cucumber, peeled and sliced
2
Green onions, thinly sliced
2 Tbsp
Fresh basil, finely chopped
1
Avocado, chopped (optional)
1 Tbsp
Vinegar (I like apple cider or brown rice)
1/4 Cup
Lime juice (2 to 3 limes)
Directions
---
1 Thoroughly wash the spinach and arugula, pat dry, and place in a large bowl. (If you are not using baby spinach, the leaves may be larger and so you may want to coarsely chop it.)
2 Add the mango, grapefruit, fennel, cucumber, green onion, basil, and avocado (if using) to the bowl. Stir in the vinegar and lime juice.
Notes: Arugula is a peppery tasting salad green that can be found in bulk or bunches in most produce sections. If you cannot find fresh fennel, you may substitute with 2 ribs of celery.
Print Recipe
Print With Images
Print Without Images
Learn why the nutrition behind our recipes is so important with the
12-Day McDougall Program
. Do you have questions about whether a change in diet can help your ailment? Learn more about our
consultations
.