Simple Corn Soup
By Mary McDougall
This is wonderful as a simple lunch soup or part of a more elaborate meal plan. This may be served plain or with steamed vegetables added to the soup before serving.
Serves: 2-4
Prep Time: 5 min
Cook Time: 10 min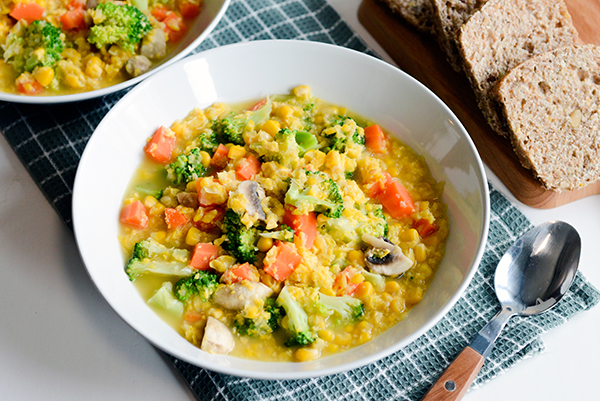 Ingredients
---
16 Ounce Package
Frozen corn kernels, thawed
Directions
---
1 Place the corn in a saucepan with 1/3 cup water. Bring to a boil, reduce heat slightly, cover and cook about 5 minutes, until corn is tender. Remove from heat and let cool slightly. Pour into a food processor and process until smooth. Gradually add the broth while processing and continue until soup is quite smooth. Return to saucepan, heat through and serve.
Variations: Broccoli florets, sliced red pepper, mushrooms, asparagus and pea pods are good choices to add to the soup as a surprise vegetable. Each bowl only requires 3-4 vegetables. Prepare the vegetables you plan to use before you start cooking the corn. Then while the corn is cooking, steam the vegetables over boiling water for 5 minutes. Add the steamed vegetables to the pureed soup and stir together well.
Print Recipe
Print With Images
Print Without Images
Learn why the nutrition behind our recipes is so important with the
12-Day McDougall Program
. Do you have questions about whether a change in diet can help your ailment? Learn more about our
consultations
.