Quinoa Curry Bowl
By Cathy Fisher
This quick and easy dish uses stir fry frozen vegetables, along with fresh ginger and garlic. Frozen veggies can be a healthy and delicious meal addition. Look for 100% frozen vegetables without any added salt or oil.
Serves: 2-4
Prep Time: 5 min
Cook Time: 20 min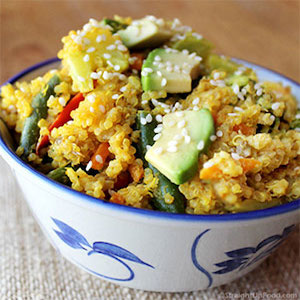 Ingredients
---
3/4 Cup
Uncooked (dry) quinoa
16 Ounces
Frozen "stir fry" blend vegetables
1 Tsp
Fresh ginger, minced
Directions
---
1 Stir the water, quinoa, granulated onion, and 1/2 teaspoon curry powder together in a medium saucepan, and bring to a boil. Reduce heat to a low simmer and cook covered with a tight-fitting lid for 15 minutes.
2 While the quinoa is cooking, place the frozen vegetables into a skillet or soup pot on medium-low heat covered so the vegetables can thaw and soften. Stir occasionally, adding a little water if needed. While the vegetables are warming, mince the garlic and ginger.
3 When the vegetables have thawed and softened (5 to 10 minutes), increase the heat to medium-high and stir in the garlic, ginger, and 1 teaspoon curry powder, and cook stirring for 1 to 2 minutes. Remove the pan from the heat and add the tahini, adding a little water as needed to mix thoroughly. Stir the quinoa into the vegetables. Serve as is or with diced avocado and/or sesame seeds on top.
Notes: I use a "stir fry" blend with this recipe, but any 16-ounce bag of frozen vegetables may be used. Also, feel free to toss in any favorite fresh vegetables, too, such as zucchini, cabbage, greens (kale, chard, spinach), or green onions.
4 Quinoa is sold as a dry grain, and comes in white/yellow, red, and black. Use any color you like or a mix. (Two-and-a half cups of cooked rice may also be used in place of the cooked quinoa.)
Print Recipe
Print With Images
Print Without Images
Learn why the nutrition behind our recipes is so important with the
12-Day McDougall Program
. Do you have questions about whether a change in diet can help your ailment? Learn more about our
consultations
.