Pumpkin Raisin Muffins
By Chef AJ
While many think of pumpkin as a seasonal food, canned pumpkin is available all year round. On days when you don't have time to cook oatmeal, you can enjoy these moist, delicious muffins for breakfast.
Serves: 12 muffins
Prep Time: 15 min
Cook Time: 45 min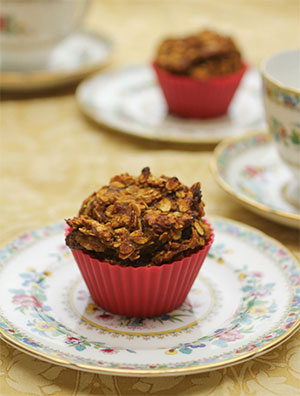 Ingredients
---
2
Large, very ripe bananas
1
15 ounce can pumpkin (not pumpkin pie filling)
1 Tbsp
Alcohol-free vanilla
Directions
---
1 Preheat oven to 350 degrees.
2 In a food processor fitted with the "S" blade, process bananas and nondairy milk until smooth. Add pumpkin, date paste, flax seeds, extract, and spice and continue processing until smooth and creamy.
3 Transfer to a large bowl and stir in the oats and raisins. Spoon an equal amount of batter into a muffin tin lined with cupcake liners or silicone baking cups. You need to fill each muffin liner with about 1/2 cup of batter as these do not rise. A retractable ice cream scoop works well.
4 Bake 45 minutes.
Print Recipe
Print With Images
Print Without Images
Learn why the nutrition behind our recipes is so important with the
12-Day McDougall Program
. Do you have questions about whether a change in diet can help your ailment? Learn more about our
consultations
.