Pumpkin Pie
By Mary McDougall
Thanksgiving wouldn't be complete without pumpkin pie. I have been making various versions of pumpkin pie for many years, but have never been really pleased with the results. This one is the best! You can proudly serve this to everyone!
Serves: Makes one 9 1/2 inch pie
Prep Time: 45 min
Cook Time: 60 min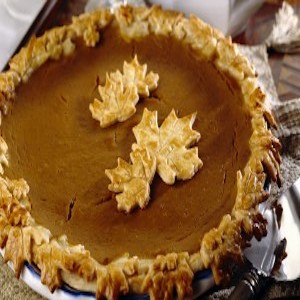 Ingredients
---
1/3 Cup
Unsalted, roasted cashews
1 Cup
Unbleached white flour
12.3 Oz. Package
Silken tofu (firm)
1/4 Tsp
Pumpkin pie spice
Directions
---
1 Preheat oven to 350 degrees.
2 Place the cashews in a food processor and grind until they resemble fine meal. Add Sucanat, prune puree and vanilla. Process until well combined. Mix the flour and salt in a medium bowl. Add the cashew mixture and mix well, beginning with a spoon and ending with your hands. Press this mixture into the bottom of a 9 1/2 inch silicone pie or non-stick pan with a high fluted edge. Press the mixture evenly over the bottom and up the sides. Bake for 15 minutes. Remove and set aside.
3 Meanwhile, place the tofu in a food processor and process until very smooth, scraping the sides often. Remove and place in a large mixing bowl. Add the pumpkin and mix well. Add the Sucanat and the spices and mix until very smooth. Add the non-dairy milk and mix again until well combined. Pour this mixture into the prebaked pie shell. Place in the oven and bake at 350 degrees for 60 minutes. Remove and cool.
4 For best flavor, chill for at least 2 hours before serving. This may be made a day ahead of time and refrigerated until serving. Serve with vanilla non-dairy ice cream or Vanilla Cream Sauce (recipe in Desserts & Baked Goods).
Print Recipe
Print With Images
Print Without Images
Learn why the nutrition behind our recipes is so important with the
12-Day McDougall Program
. Do you have questions about whether a change in diet can help your ailment? Learn more about our
consultations
.