Oatmeal Cookies
By Mary McDougall
This is a variation of the cookies that I have been making for years. These are easy to modify by adding some chopped nuts or vegan chocolate chips instead of the raisins (which also raises the fat content of the cookies). These are cake-like cookies, not too sweet, and probably the healthiest cookies around!
Serves: Makes 32 cookies
Prep Time: 15 min
Cook Time: 10 min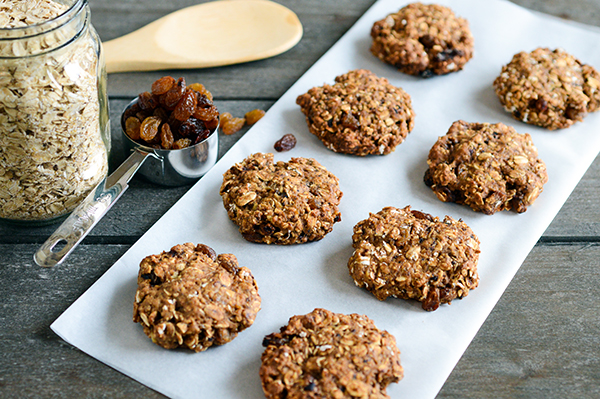 Ingredients
---
1 1/2 Cups
White whole wheat flour
2 Tsp
Egg replacer mixed in 1/4 cup warm water
Directions
---
1 Preheat oven to 350 degrees.
2 Combine the dry ingredients (including the raisins) in a large bowl. Mix well and set aside.
3 Mix the Egg Replacer with the water and whisk until frothy. Set aside while combining remaining ingredients.
4 Place bananas in a separate bowl and mash. Stir in the brown sugar, Prune Puree (recipe in Desserts & Baked Goods) and vanilla. Mix well, then stir in the Egg Replacer mixture. Pour over the dry ingredients and mix until well combined and moistened.
5 Drop by tablespoonfuls onto a dry non-stick baking sheet. Flatten slightly with a fork. Bake for 10-12 minutes, until slightly browned. Remove from oven and cool on wire racks before storing in an airtight container.
Print Recipe
Print With Images
Print Without Images
Learn why the nutrition behind our recipes is so important with the
12-Day McDougall Program
. Do you have questions about whether a change in diet can help your ailment? Learn more about our
consultations
.