Banana Nut Bread
This is our favorite banana bread. I make it in a red SiliconeZone loaf pan. It comes out clean every time!
Serves: Makes 1 loaf
Prep Time: 25 min
Cook Time: 60 min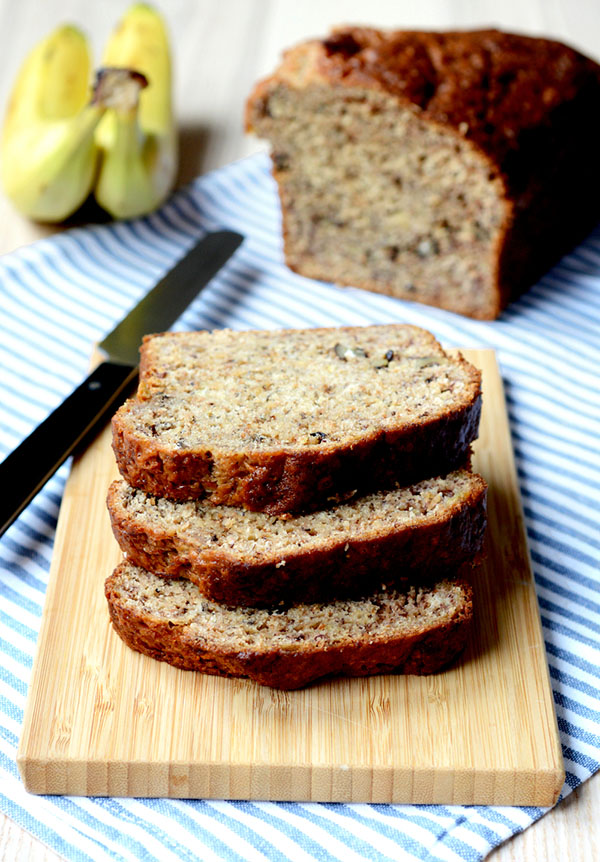 Ingredients
---
1 1/4 Cups
Whole wheat pastry flour
1 Cup
Unbleached white flour
1 Cup
Ripe bananas, mashed
1 tablespoon egg replacer mixed in 1/4 cup cold water
Directions
---
1 Preheat oven to 350 degrees.
2 Place the non-dairy milk in a cup. Add the lemon juice and mix well. Set aside. This will thicken as it rests.
3 Mix the flours, baking powder, baking soda, cinnamon and salt in a large bowl. Stir in the walnut pieces and set aside.
4 Mix the prune puree, bananas and sugar or Sucanat in another bowl. Combine the egg replacer and water and mix until frothy. Stir into the banana mixture along with the vanilla. Add the milk mixture and mix again. Pour into the dry ingredients and stir until combined. Do not over-beat.
5 Pour into a non-stick 9×5 inch loaf pan. Bake for 60 minutes.
Hint: Regular whole wheat four may be used instead of the pastry flour. It will be slightly heavier. If you make this in a conventional non-stick pan, loosen it from the sides with a dull knife after it cools slightly. Then invert to remove. If you make this in a flexible silicone pan, you will just need to flex the sides several times before inverting to remove.
Print Recipe
Print With Images
Print Without Images
Learn why the nutrition behind our recipes is so important with the
12-Day McDougall Program
. Do you have questions about whether a change in diet can help your ailment? Learn more about our
consultations
.