Mushroom Barley Soup
By Mary McDougall
Serves: 4-6
Prep Time: 10 min
Cook Time: 60 min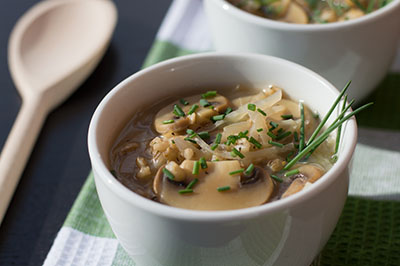 Ingredients
---
1 Tbsp
Soy sauce (optional)
1/8 Tsp
Freshly ground pepper
1/2 Pound
Fresh mushrooms, sliced
Directions
---
1 Place the water, barley, onion and seasonings in a large pot. Cover and cook over medium heat for 30 minutes.
2 Add the mushrooms and cabbage and cook for another 30 minutes.
Hints: To save time in preparation, buy sliced mushrooms and shredded cabbage in the supermarket. Wasabi powder is sold in most natural food stores. It is a Japanese horseradish powder.
Print Recipe
Print With Images
Print Without Images
Learn why the nutrition behind our recipes is so important with the
12-Day McDougall Program
. Do you have questions about whether a change in diet can help your ailment? Learn more about our
consultations
.