Mexican Rice Soup
By Heather McDougall
Serves: 6
Prep Time: 15 min
Cook Time: 30 min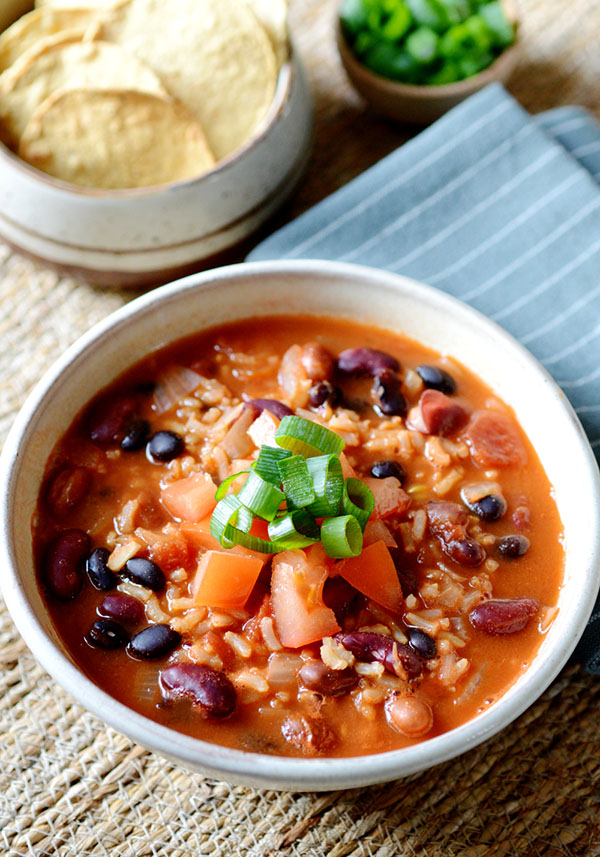 Ingredients
---
15 Ounce Can
Kidney beans
15 Ounce Can
Fire-roasted tomatoes
1 Cup
Long grain rice, toasted
Directions
---
Toppings: Chopped tomato Sliced scallions Salsa Baked Tortilla Chips
1 To toast the rice, put the rice in a preheated pan on medium-high heat. Stir constantly until rice is light to dark brown in color, about 5 minutes.
2 Saute onion, garlic, and 1 tablespoon vegetable broth or water in a large saucepan over medium-high heat for 7 minutes. Add the rest of the ingredients, reduce heat to low and simmer for 25-30 minutes. Serve with toppings of your choice, or the ones listed above.
Print Recipe
Print With Images
Print Without Images
Learn why the nutrition behind our recipes is so important with the
12-Day McDougall Program
. Do you have questions about whether a change in diet can help your ailment? Learn more about our
consultations
.